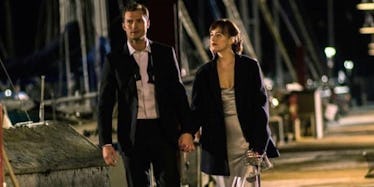 Last 'Fifty Shades Darker' Clip Gives Us A Huge Spoiler For The Third Movie
Universal Studios
Despite claims "Fifty Shades Darker" is a snoozefest on par with an actual coma, there's one reason to stick it out until the credits, maybe.
A teaser for "Fifty Shades Freed" played during the "Darker" credits shows Anastasia Steele (Dakota Johnson) in full bride regalia, standing across from a mystery man. Christian Grey's (Jamie Dornan) voice can be heard reciting vows.
He says,
I solemnly vow to keep you safe for as long as we both shall live.
"Freed" is set to hit theaters on Valentine's Day 2018, Us Weekly reports.
Until then, we bite our nails until either our gel manicures poison the shit out of our livers or we realize these movies were books first. We can just — we can read the books.
There's nothing stopping us. There's no temporary embargo on these fat paperback bitches. Crack one.
For those of us who have no intention of doing anything of the sort, there's always wild speculation.
Perhaps this is a dream sequence or a fever hallucination or, hey, a legitimate wedding. I do not feel qualified to make this call, either way, having seen zero of the films.
Whatever. Even Jamie Dornan is over this "Fifty Shades" noise. In September, he told The Sun,
We have done two movies back to back now, and I'm actually finished with it. I've done 'Fifty Shades…' forever…. I move on very fast in my mind. As much as from the outside people think you are synonymous with one character, but I'm very much like, 'Right, that's done' and move on to the next project and worry about that character.
If you're not feeling it anymore, Jamie baby, neither are we. Also, a lot of us never felt it in the first place. We've just been over here pretending to be hype for this shit out of sheer social insecurity.
It feels good to come clean.
Citations: Us