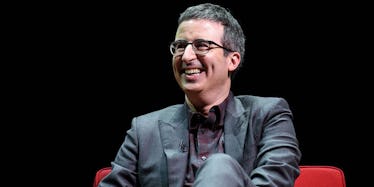 John Oliver Will Star In The Live-Action 'Lion King' And Has The Perfect Role
Dave Kotinsky/Getty Images
A couple of months ago, I made the bold claim that Disney's live-action Lion King reboot was shaping up to be the most perfectly cast movie ever made, and its latest addition is only helping my argument.
I mean, first you've got Donald Glover playing Simba, which is just pure brilliance, and then James Earl Jones is bringing Mufasa to life because honestly, nobody else possibly can. Top that off with Billy Eichner and Seth Rogen playing the perfect characterizations of their comedic sensibilities, Timon and Pumbaa, and rumors from heaven above that Beyoncé may voice Nala, and things just couldn't get any better.
Except somehow, they did! Now, John Oliver is signed on to join the cast, and the role is just perfect for him. According to The Hollywood Reporter, Oliver will voice Zazu in the upcoming remake, the fastidious bird that advises Mufasa and Simba.
It's one of those "Of course!!" casting choices that this remake has been consistently hitting the mark on. Oliver has become a loud and clear of a voice of reason for TV viewers over the last few years after using his late-night show Last Week Tonight to sound off on current events with unparalleled passion and clarity.
In the same vein, Zazu serves as the voice of reason among the wild Sahara setting of The Lion King. Although he's perceived of as a stick in the mud, Zazu's oftentimes pestering advice could have saved Simba and the kingdom from years of hardship.
This also means that we'll probably be hearing John Oliver's singing voice. Though Zazu doesn't have a ton of screen time, he does take part in the movie's iconic number "I Just Can't Wait To Be King," and even has his own song that was cut from the original movie "The Morning Report."
The only sad news is that we're going to have to wait a long time before we get to see this movie. The Lion King remake is scheduled to come out two years from now, on July 19, 2019.