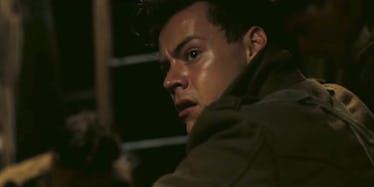 Harry Styles Gasps For Air In Intense New Trailer For 'Dunkirk'
Warner Bros.
Harry Styles is going to war, which seems like pretty much the worst thing ever, but at least he looks damn good while doing it.
The first full-length trailer for "Dunkirk," an upcoming British World War II drama from "Dark Knight" and "Interstellar" director Christopher Nolan, dropped on Wednesday.
This will be the 22-year-old One Direction singer's feature film debut; he's playing a young British soldier named Tommy.
In August we got a teaser look at this new Nolan film, but now we finally get to see our boy Harry miserable on the beach in his soldier gear.
The film centers around the true story of a famous WWII battle in Dunkirk, France, in which allied soldiers decided to evacuate after being surrounded by the German army.
Obviously, this is a pretty intense subject matter, and it's still up in the air whether Harry's character will even survive the war.
At one point it definitely seems like he's on the verge of drowning.
Nooo, don't die Harry! This depressing movie about horrors of war needs you!
But seriously, this films looks very powerful -- just in a very depressing way.
Also appearing in the trailer is Cillian Murphy, who has worked with Nolan often in the "Dark Knight" films and "Inception."
As well as Kenneth Branagh, of "Valkyrie" fame.
The film also stars Aneurin Barnard, James D'Arcy, Tom Glynn-Carney, Tom Hardy, Barry Keoghan, Jack Lowden and Mark Rylance.
This is Nolan's first film since "Interstellar" in 2014.
Landing a film directed by Nolan — who's an award-winning director — is not bad at all for Harry's first acting gig.
(No, I am not counting his appearance on iCarly in 2012 as himself, or his multiple "Saturday Night Live" skits from 2013 and 2014.)
"Dunkirk" is scheduled to hit theaters on July 21, 2017.
Citations: Harry Styles Goes to War in First Full-Length Dunkirk Trailer (E! News)