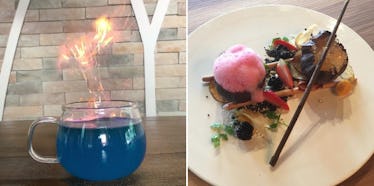 There's Another 'Harry Potter' Cafe And It Has Goblets Of Fire On The Menu
The fourth "Harry Potter" book came out in 2000, which means it's taken 17 years for someone to make a drink called "Goblet of Fire."
I know, I'm just as disappointed in us as you are. But thank Merlin, the day has finally come, and it's pretty freakin' magical.
This is all thanks to the new cafe that recently opened in Singapore called Platform 1094, where they serve "Harry Potter"-themed food and drink. (Who wants to let me borrow their broomstick so I can fly to Singapore?)
This is the second "Potter"-themed cafe opened by the company Fresh Fruits Lab. The first is the Hogwarts Café in Pakistan, which opened this past summer.
Listen. I'm too poor to fly to Singapore, but I've been stalking your pics of this place on Instagram, and it looks pretty wicked.
First of all, this Goblet of Fire drink. IT ACTUALLY LIGHTS ON FIRE!
I mean, not only is it that amazing neon blue color, but those fiery sparks definitely look to me like Harry P casting "Expelliarmus" to defeat Voldemort.
The drink is made with blue Curacao liqueur, lemonade and Bacardi rum. The server sets it on fire, and when you sprinkle cinnamon on top, it sparks and flares.
You'll never feel more like a potions master.
Next up is this dessert dish that straight-up looks like bubbling cauldrons. It even comes with a wand!
The half-blood prince would be so proud, were he still with us today.
Soup gets served in a cauldron, too, obviously, and guests are encouraged to cast spells while they eat.
The chairs are decorated with stags — aka Harry's Patronus.
Prongs rode again at this cafe.
Basically, this looks like the best cafe in the whole wide world (Wizarding, Muggle or otherwise).
I never wished I could Apparate more than I do right now.
You can check out more of Fresh Fruits Labs' innovative drinks, magical and otherwise, on its website.
Citations: A Harry Potter-themed cafe is open in Singapore that serves Goblets of Fire Read more: http://www.lonelyplanet.com/news/2017/01/10/harry-potter-themed-cafe-singapore-goblets-fire/#ixzz4VNS9MnUD (Lonely Planet)