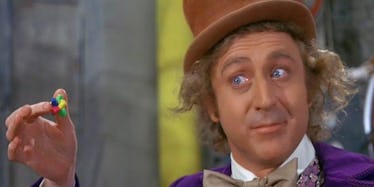 7 Gene Wilder Quotes From 'Willy Wonka' To Make You Feel Like A Kid Again
Paramount Pictures
Gene Wilder, one of the greatest comic actors the world has ever known, died today at the age of 83.
According to a report from Variety, his death was caused by complications from Alzheimer's disease.
Gene Wilder's career is nothing short of legendary — he frequently collaborated with comedy filmmaker Mel Brooks, and received critical acclaim for his performances in "Young Frankenstein," "The Producers" and "Blazing Saddles."
He also made several films with comic legend Richard Pryor, including the popular hit "Silver Streak."
But he is perhaps most well-known for his role as Willy Wonka, in the 1971 musical film "Willy Wonka & the Chocolate Factory."
That character touched so many of our lives and permeated so many of our childhoods.
1. Willy Wonka always encouraged us to go for what we wanted.
2. He took us to so many wonderful places.
3. And taught us so many wonderful lessons.
pic.twitter.com/zk44IffjGU — #1 Rachel (@rachel) August 29, 2016
4. Like that sometimes a snozzberry is nothing more than a snozzberry.
RIP Gene Wilder, beloved star of 'Willy Wonka': https://t.co/GqK0ed2PIl pic.twitter.com/biDGlj7NNO — BULLETT Media (@BULLETTMedia) August 29, 2016
5. And sometimes the wait is half of the fun.
6. He reminded us to make music and to dream dreams.
(Fun fact: He was actually quoting a poem by Arthur O'Shaughnessy.)
7. And he taught us it is never too late to correct your mistakes.
There is little doubt Gene Wilder's legacy will live on forever. RIP.