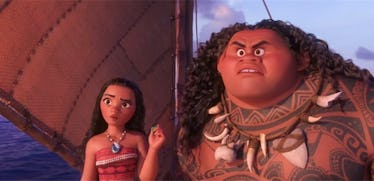 The First Trailer For Disney's New Princess Movie 'Moana' Is Finally Here
Disney
I don't want to be overdramatic, but the new Disney princess film "Moana" looks like the MOST PERFECT MOVIE EVER.
On Thursday, The Rock himself debuted the trailer on "Good Morning America" after sharing the poster on his Twitter on Tuesday.
Here's the #MOANA posters that'll be seen around the globe. Really cool stuff & thank U guys for your excitement! pic.twitter.com/Kn95QItycu — Dwayne Johnson (@TheRock) September 13, 2016
Moana, a young Polynesian princess, teams up with Maui (The Rock), a shapeshifter, demigod of the wind and sea and hero of men.
We were introduced to Maui and all of his charismatic glory in an earlier teaser trailer.
The pair must go on a mission together, presumably to save someone or something.
Here are just some of things that have me so hype for this movie:
Dwayne "The Rock" Johnson in a Disney princess film. Need I say more?
The first Pacific Islander Disney Princess, played by Auli'i Cravalho. (Lilo from "Lilo & Stitch" would count, but she wasn't a princess!)
Lin-Manuel Miranda, aka Alexander Hamilton, wrote the songs and the music. Just you waaaiiiit.
"Moana" hits theaters this Thanksgiving — CAN IT JUST BE THANKSGIVING ALREADY?
Citations: Dwayne Johnson Takes a Journey Into the 'Realm of Monsters' in New Moana Trailer (PEOPLE)