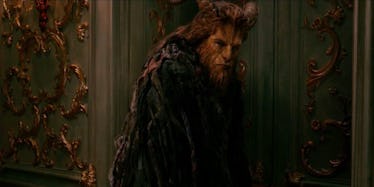 New 'Beauty And The Beast' Clip Of Beast Asking Out Belle Will Make You Melt
Disney
Well, I've never felt more connected to a movie character than I do to Beast trying to be cool while asking out Belle.
Rarely does a movie garner as much pre-release buzz as "Beauty And The Beast" has.
Since Disney announced it was making a live-action reboot of the classic fairytale, the internet has been fan-girling over every clip, trailer and spoiler that has made its way online.
The latest piece of content for Disney fans to freak out over is a quick clip of Beast asking Belle out to dinner, and it is absolutely adorable.
It's also entirely too relatable.
In the clip, Beast knocks on Belle's door and demands she joins him for supper.
His staff of haunted (?) appliances give him a few tips on what it takes to woo a girl, but then they recoil when they see what it looks like when Beast tries to show his sensitive side.
The entire time Belle is trying to escape out of her window with a tied-together sheet set.
The clip was released just days after it was revealed the reboot would feature LeFou, played by Josh Gad, as an openly gay character.
"Beauty And The Beast" director Bill Condon made the reveal in Attitude, saying,
LeFou is somebody who on one day wants to be Gaston and on another day wants to kiss Gaston. He's confused about what he wants. It's somebody who's just realizing that he has these feelings. And Josh makes something really subtle and delicious out of it. And that's what has its payoff at the end, which I don't want to give away. But it is a nice, exclusively gay moment in a Disney movie.
The film featuring an LGBTQ+ character is particularly meaningful because lyricist Howard Ashman was battling AIDS when he was working on the original film back in 1991.
Citations: 'Beauty and the Beast' Clip Shows the Beast Asking Belle to Dinner (Teen Vogue)