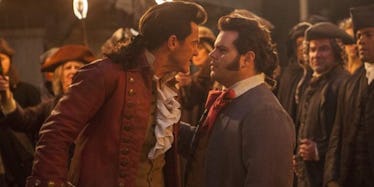 'Beauty And The Beast' Is Making History With Disney's First Gay Character
Disney
After many, many years of nothing but heterosexuality, "Beauty and the Beast" is about to become the first Disney blockbuster to feature an openly gay character.
As much as I'd love to see an alternate version of the film where Belle runs off with the enchantress instead of the Beast, this gay honor has been bestowed upon the character of LeFou, played by actor Josh Gad in the upcoming live-action film.
In the April issue of Attitude magazine, director Bill Condon revealed how and why he decided to show Gad's character, the loyal sidekick of Gaston, as outwardly gay and in love with the film's iconic villain (played by Luke Evans).
Condon said,
LeFou is somebody who on one day wants to be Gaston and on another day wants to kiss Gaston. He's confused about what he wants. It's somebody who's just realizing that he has these feelings. And Josh makes something really subtle and delicious out of it. And that's what has its payoff at the end, which I don't want to give away. But it is a nice, exclusively gay moment in a Disney movie.
As to what this "exclusively gay moment" will entail, we don't yet know. Is this, like, a kissing kind of exclusive gay moment? A tender hair stroking exclusive gay moment? A prolonged, significant glance exclusive gay moment?
There are just so many possibilities.
Josh Gad, the 36-year-old actor and comedian who will take on this exclusively gay moment as LeFou in "Beauty and the Beast," shared on his Twitter how proud he is to make Disney history.
It is particularly meaningful to feature and LGBT character in the film because the original 1991 animated film featured songs written by lyricist Howard Ashman, who was battling AIDs while he worked on the film.
According to Condon, Ashman saw the storyline of the Beast as a metaphor for the disease that plagued the gay community in the '80s and '90s. Ashman tragically died from the disease in 1991, just four days after the film's release.
I hope this tribute is only the beginning of many more exclusively gay Disney moments to come.
"Beauty and the Beast" opens in theaters nationwide on March 17, and check out the full interviews with Condon, Emma Watson and Dan Stevens in the April issue of Attitude, in stores today.