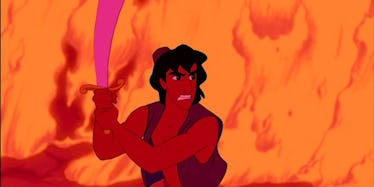 'Aladdin' Is Getting The 'Game Of Thrones' Treatment, So Prepare For Gore In Agrabah
Disney
Agrabah might look a lot more like Westeros in the new live-action Aladdin movie. That's because the Aladdin script is being rewritten by Game of Thrones writer Vanessa Taylor. The Tracking Board has reported Disney hired Taylor to rework the script for the upcoming live-action adaptation of its 1992 animated classic.
So what does this mean for the new Aladdin? Well, Vanessa Taylor has become known for her mastery of action-packed fantasy lately, so we'd be safe in expecting a lot more stunts in the new flick, as well as playing up the magical, fantastical elements of the original story.
Taylor has written and produced various episodes in the second and third seasons of Game of Thrones, along with penning the screenplay for 2014's Divergent, and the script for Guillermo del Toro's upcoming historical fantasy The Shape of Water. Clearly, she knows how to do action-fantasy.
And Vanessa Taylor isn't the only exciting new addition helping craft the live-action Aladdin. The film will also get a musical boost from the songwriting team behind La La Land. Yep — the new Aladdin is going to have Game of Thrones-level action and La La Land caliber songs.
Alan Menken revealed Benj Pasek and Justin Paul have joined the Aladdin songwriting team fresh off their Oscar win for "City of Stars" from La La Land. The duo is also behind the Tony-juggernaut Dear Evan Hanson, so yeah, they're definitely on a roll right now.
The new Aladdin has also recently revealed its main cast. Egyptian-Canadian actor Mena Massoud will play Aladdin, Power Rangers star Naomi Scott will be Princess Jasmine, and Will Smith (who you know because, like, he's Will Smith) will play the Genie, the role Robin Williams made famous.
Thankfully, Massoud and Scott both have action experience thanks to their roles in Jack Ryan and Power Rangers, because now that a Game of Thrones writer is involved, they might have to be ready for stunts galore.