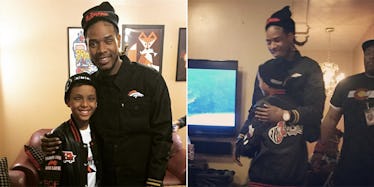 Fetty Wap Finally Met The Kid He Inspired To Stop Wearing His Prosthetic Eye
Instagram
Despite dealing with glaucoma as a child and losing one eye, Fetty Wap never let anything stop him from becoming one of the biggest artists in the world.
His unlikely triumph was even inspiration enough for one young fan named Jayden to remove his prosthetic eye and learn to love himself without it.
That child's mother wrote an incredible Facebook post about Fetty's influence in her son's life and of course he took notice.
Just a few months after she shared her story, Jayden finally got to meet his idol in an amazing experience he surely will never forget.
This was Jayden on the way to finally meet his biggest idol, Fetty Wap.
When he got there, he immediately got the VIP treatment.
Then finally came the moment...
When he met the man who inspired him to be himself.
Jayden's mother was there the whole time to witness his experience.
And of course the rest of his family was there to meet Fetty too.
At this point, Jayden is the newest member of 1738.
He even got to rock out on stage with Fetty Wap and his whole crew.
This was a day that Jayden will never forget.
During an interview with People, Fetty Wap spoke about Jayden saying,
I'm glad that I was able to give him the courage to take out his prosthesis. I know how it feels to be picked on. I've been talked about my whole entire life. The only difference now is they're saying good things about the guy with one eye. I'm proud of Jayden and I appreciate him more than he may know.