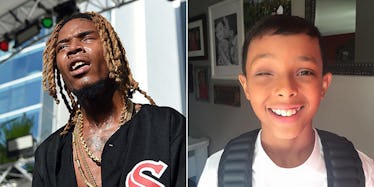 Mom Thanks Fetty Wap For Giving Son Courage To Take Out Prosthetic Eye
Not a lot of people make it out of where Fetty Wap is from.
Paterson, New Jersey isn't a place known for producing rap stars, but after this summer, it's hard to argue there's anyone hotter than Fetty.
His music touches everyone, from girls calling themselves trap queens because they're dating some dudes who sell weed to corny little suburban kids remixing his songs about apple pies.
However, if there's one person he's touched the most, it's a young boy named Jayden, who, like Fetty, had one of his eyes removed as a child.
In an emotional Facebook post, Jayden's mother shared how Fetty Wap gave her son the courage to go outside with his prosthetic eye.
She wrote,
(Warning: long sentimental post ahead) Today I am forever thankful to a young man named Willie Maxwell aka Fetty Wap. While his music is catchy (not always agree with his lyrics but hey who am I to judge...), I'm not necessarily his fan (although Trap Queen is my jam), BUT today I'm his biggest fan. Many close friends, and of course our family know that Jayden was diagnosed with Retinoblastoma at the age of 1. In result of that he had his right eye removed 2 weeks after his 1st bday. He's worn a prosthetic eye since then. He has always been terrified of taking it out and would not be caught without it...and then comes along Fetty Wap... Similar to Jayden he lost an eye at a young age and along the way he decided that he didn't want to wear his prosthetic eye anymore, so he stopped. Jayden, let it be known, is a Fetty Wap fan, a real fan, not like me ha! Well, today, after weeks of asking, Jayden is venturing the world without his prosthetic. I of course am a wreck because this world can be cruel, but so proud of our Boogies. This young rapper unknowingly gave Jayden something we weren't able to give him-the confidence to be different- and I am grateful to him. Thanks to Fetty Wap for saying F the world this is me, and for helping make our baby boy just a little more remarkable than he already is. And we'll be purchasing his album, a small thank you to him for changing Jayden's life forever.
Fetty Wap has never tried to hide his missing eye and, despite dealing with assh*les on the Internet, he has never let it get in the way of his career and what he's trying to do.
He's an inspiration to Jayden and anyone like him.
(Warning: long sentimental post ahead) Today I am forever thankful to a young man named Willie Maxwell aka Fetty Wap.... Posted by Brenda Vaden on Thursday, September 10, 2015
His debut album, which drops later this month, even focuses in on his missing eye, yet another way to remind all of his doubters he made it.
S E P T E M B E R 2 5 pic.twitter.com/33EwwlhsBs — FettyWap1738 (@fettywap) August 27, 2015
Citations: Fetty Wap Inspired Fan To Remove Prosthetic Eye (MTV)