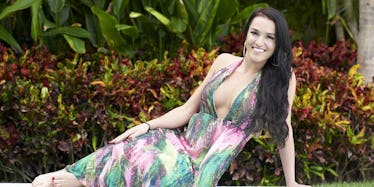 Fans Really Hope Alexis Finds Love In 'Paradise' & We've Got Our Fingers Crossed
ABC/Bob D'Amico
For all the out-there characters Bachelor in Paradise is giving us this year, there aren't a lot that stand out as fan favorites quite yet. I mean, Robby is pretty much proving himself to be the show's ultimate tool, and even the franchise's golden boy Dean has turned sour now that he's playing both Kristina and Danielle. Thankfully, we did get one hero in Alexis. The contestant who was best known for wearing a shark (or was it a dolphin?) costume on the most recent season of The Bachelor may not have won Nick Viall's heart, but she is quickly winning over the hearts of everyone in Bachelor Nation thanks to her tell-it-like-it-is confessionals and hilarious antics. So now, every Bachelor in Paradise fan is pulling for Alexis to find love and make it to the end.
The Alexis love really kicked into full gear after Monday night's episode of Bachelor in Paradise, when fans finally got to see just how feisty and hilarious she really could be. First, we saw her and Jasmine having the most fun out of anyone in the cast by pretending to get into a slapping match in the pool and then hilariously narrating the other players' storylines. But what really earned her place in the hearts of viewers is how ferociously she came after Dean in her confessionals after finding out he was two-timing Kristina with Danielle. Alexis was the only contestant to curse out Dean for his shady antics. And of course, that post-credits scene of her crying over a dropped pizza was the cherry on top.
Immediately following the episode, Twitter erupted in support for Alexis.
So clearly pretty much all the viewers are in agreement that we want to see Alexis stick around to the end, but unfortunately, things don't look too hot for her in the game right now. We haven't really seen Alexis forming any relationships with the guys up to this point. In the first rose ceremony, she gave her rose to Jack Stone, but since we haven't really seen the two spend a significant amount of time together, it didn't really seem like the basis for a lasting relationship. We'll just have to keep hoping Alexis does manage to finf the one.