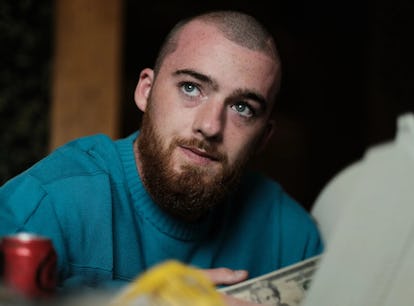 Euphoria Added A Special Moment To 2 Episodes In Honor Of Angus Cloud
Rewatching this show will never be the same.
HBO
The next time you start a rewatch of Euphoria, you'll notice something at the start of a couple episodes. To pay tribute to the hit show's star Angus Cloud, HBO's streaming service Max added an in memoriam card to two important episodes of the series. Now, both the Euphoria series premiere and its Season 2 premiere begin with tributes to Cloud's touching work on the show.
The newly added tribute displays a black and white photo of Cloud next to a memorial for him: "In memory of Angus Cloud 1998 — 2023." It appears at the start of Euphoria's first episode, as well as Fez's pivotal flashback episode in Season 2. Of course, the pilot episode of Euphoria is when fans first met Fezco, the soft-spoken drug dealer with a special connection to Rue. The Season 2 premiere is centered on Fez, telling his backstory as an abandoned child who got involved in drug dealing as a way to support himself and his family. It's also the episode where Fez and Lexi's romance began, quickly making them a fan-favorite couple.
The dedication comes shortly after the new broke that Cloud had died on July 31 at age 25. Several of Cloud's Euphoria castmates shared heartbreaking notes recalling their uplifting memories with Cloud, and throwback photos of their good times together. "I'm so grateful I got the chance to know him in this life, to call him a brother, to see his warm kind eyes and bright smile, or hear his infectious cackle of a laugh (I'm smiling now just thinking of it)," Zendaya wrote of Cloud. "Angus was a sunshine. to have known his warmth, his light, and his love was nothing short of a gift," Hunter Schafer wrote.
The cause of Cloud's death is not known, but his mother shared that although Cloud was grieving the recent loss of his father, his final days were happy ones. "His last day was a joyful one," Lisa Cloud wrote on social media. "He was reorganizing his room and placing items around the house with intent to stay a while in the home he loved."