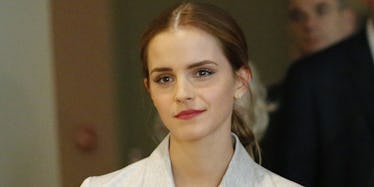 Emma Watson Subscribes To A Website Dedicated To Female Sexual Pleasure
Getty Images
I know it's hard to believe, but sometimes, women like to experience sexual pleasure.
Yep, even famous women. Yep, even famous women you saw grow up on screen because they still don't owe you anything.
So yes, Emma Watson, who is 25 now, revealed in a recent interview with feminist icon Gloria Steinem she subscribes to the website OMGYES. It's a site dedicated to spreading much-needed information about female sexuality and pleasure.
Metro reports, in Emma's chat with Steinem, hosted by the how to: Academy in London, the former "Harry Potter" actress said,
A friend told me about this website called OMGYES, which is dedicated to female sexuality. I wish it had been around longer. Definitely check it out. It's an expensive subscription, but it's worth it.
She's a grown-ass woman, people! I think she's entitled to owning her sexuality.
Plus, the website looks really cool. According to the site's info page, it's all about tearing down the taboo and helping women get the pleasure they deserve. As Emma said, it is a little pricey, running at $29 for the first season of informational videos.
But can we talk about the fact Emma Watson and Gloria Steinem, a national leader of the 196os feminist movement, were in the same room? That's almost too much badass feminism for me to handle.
It seems like this is the latest installment in Emma's decision to take a year off acting for the study of feminism and activism.
Obviously, all of this learning and studying is a total Hermione Granger thing to do, and Emma herself admitted to this in the talk.
She told Steinem,
I feel as though I spent a long time trying to pretend I was not like Hermione. And, of course, I was rather like Hermione.
Well, Emma, both Hermione and you are awesome ladies, so thank you for that! And thanks for the website tip, too.
Citations: Emma Watson has a subscription to an 'expensive sexual pleasure' website (Metro), Emma Watson Tells Gloria Steinem How She's Like Hermione In Feminist Chat Of Our Dreams (Huffington Post)