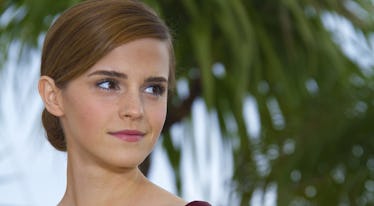 Emma Watson Is Taking A Year-Long Break From Acting For The Best Reason
Getty Images
You can expect not to see Emma Watson in any upcoming movie trailers. The "Harry Potter" actress is taking at least a year off to focus on intersectional feminism -- in true Hermione fashion.
Recently, Emma Watson and Bell Hooks, a feminist author, had a conversation together for Paper magazine, and it was exactly as badass as it sounds.
Emma told Bell Hooks she would take a year to focus on personal development, teach herself gender studies and work on her new public book club, Our Shared Shelf.
She said,
I almost thought about going and doing a year of gender studies, then I realized that I was learning so much by being on the ground and just speaking with people and doing my reading. That I was learning so much on my own. I actually wanted to keep on the path that I'm on. I'm reading a lot this year, and I want to do a lot of listening.
YES, EMMA!!! This is the mark of a great feminist. She may not be perfect, but she takes the time and puts in the effort to educate herself and learn how to be better.
Not gonna lie, this is totally what Hermione would do.
Bell Hooks complimented Emma for taking her "celebrity activism" to a deeper level of education than many others do.
The whole interview is a great read. These awesome ladies get into what it's like being a feminist whose every action is scrutinized, Bell Hooks' book "Feminism Is for Everybody" and the double standards they face as women.
Personally, I can't wait to see what comes of this year for Emma!
Citations: INCONVERSATIONWITHBELLHOOKSANDEMMAWATSON (Paper)