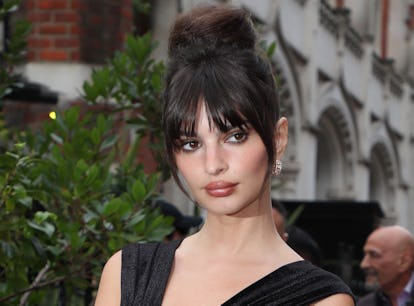 EmRata Used To Be Anti-Taylor Swift, But Now She's A Fan
"I was a misogynist that I didn't f*ck with Taylor Swift."
Neil Mockford/GC Images/Getty Images
Emily Ratajkowski has been feeling the Swiftie fantasy lately, but that wasn't always the case. The model opened up about her past as a Taylor Swift hater, confessing that she had a bit of "snobbery" when it came to Swift's music. In the recent year, though, Ratajkowski detailed how she overcame her "misogynist" issues with the pop star and became a full-blown Swiftie.
Ratajkowski explained her journey from anti-Swiftie to superfan on the July 24 episode of her podcast High Low. "I kind of grew up [with] a little snobbery around my generation. I wasn't somebody who listened to pop music a ton," the model said, revealing she was used to listening to music of her parents' generation and nothing that was really popular at the moment. It wasn't until one of her exes changed her mindset about pop music that she finally opened up to the genre. "They were talking about [how] just because something's popular doesn't mean that it isn't excellent," Ratajkowski recalled. "Actually, a lot of times the things that are popular are actually just incredibly good. … I came around. It changed it for me completely."
When it came to Swift specifically, Ratajkowksi became ashamed of how she had judged the singer in the past. "I was not a Swiftie and now I'm like, 'You know what that means? That means I was a misogynist that I didn't f*ck with Taylor Swift,'" she said. "Because I went to her concert and I was like, 'This person is an incredible songwriter, an incredible performer, and anybody who says anything else? Like, they have issues. And actually maybe not a very sophisticated palette.' … If you don't like Taylor Swift, then, like, you don't understand things."
It sounds like Ratajkowki's night at the Eras Tour back in May was a truly life-changing experience for her. She even posted she was entering her "Swiftie Era" that night, sharing a short clip of her dancing and singing along to "Blank Space" at the concert.
But, although Ratajkowski said her appreciation for Swift deepened the night of that concert, she had actually been a Swiftie a bit before then. Last Halloween, she posted a TikTok singing along to Swift's song "Karma," and even had a sweet interaction with Swift in the comments, calling her latest album Midnights "f*cking perfect."
She was also in full Swiftie mode at the start of 2023, when she commented on an uncomfortable interview Swift was part of a decade ago that had gone viral on TikTok. In the clip, Ellen DeGeneres showed Swift a slideshow of famous men and prompted her to ring a buzzer if she'd dated them. "This is so f*cked up. She's literally begging her to stop," Ratajkowski wrote.
Clearly, Ratajkowski has fully evolved from a Swiftie "Anti-Hero" to a hardcore "Lover."