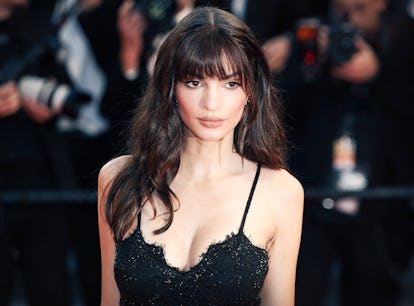 EmRata Slammed Ellen For This Resurfaced 2012 Interview With Taylor
Laurent KOFFEL/Gamma-Rapho/Getty Images
Emily Ratajkowski is not here for the way Ellen DeGeneres treated Taylor Swift in a resurfaced interview. ICYMI, a clip of the singer's appearance on The Ellen DeGeneres Show in 2012 went viral on TikTok, and it's quite an uncomfortable watch. Like many Swifties, EmRata shared her thoughts on the interview, even labelling DeGeneres' dated approach as "f*cked up."
On Jan. 6, TikTok user thatnostalgicgirl posted a brief snippet of the interview. In the video, which has garnered more than 2.2 million views, DeGeneres asked Swift about her dating life. The former host showed Swift a slideshow of famous men the singer was rumored to be with at the time, including Justin Bieber, Joe Jonas, and Justin Timberlake. She then asked Swift to "ring the bell" each time a picture of someone she actually dated appeared.
Swift, who was visibly uncomfortable throughout the segment, was hesitant to play the game. Then, as DeGeneres began flipping through the slideshow, Swift pleaded for her to stop.
"This makes me feel so bad for myself," Swift said, nearly cowering in her seat. "Every time I come up here, you put a different dude up there on the screen, and it just makes me really question what I stand for as a human being."
Ratajkowski pointed out Swift's response, saying: "This is so f*cked up. She's literally begging her to stop."
Elsewhere in the TikTok, the user stitched a video of Swift speaking with Zane Lowe on Apple Music's Beats 1 in 2019. There, the Midnights singer discussed how interviewers used to heavily "reduce" her career to her dating life. While the singer didn't publicly name DeGeneres during the conversation, her words eerily describe the game she played on the show.
"When I was 23 and people were, kind of, reducing me to making slideshows of my dating life and putting people in there that I sat next to at a party once," Swift said in the interview. "It's a way to take a woman who is doing her job and succeeding at doing her job and making things, and it's, in a way, it's figuring out how to completely minimize that skill."
DeGeneres was somewhat known for interviewing celebrities to the brink of making them and the audience feel uncomfortable. This approach has only added to the show's complicated legacy, and later unearthed claims that the show was a toxic environment for employees in July 2020. Less than a year later, DeGeneres announced the end of her talk show after hosting 19 seasons on air.