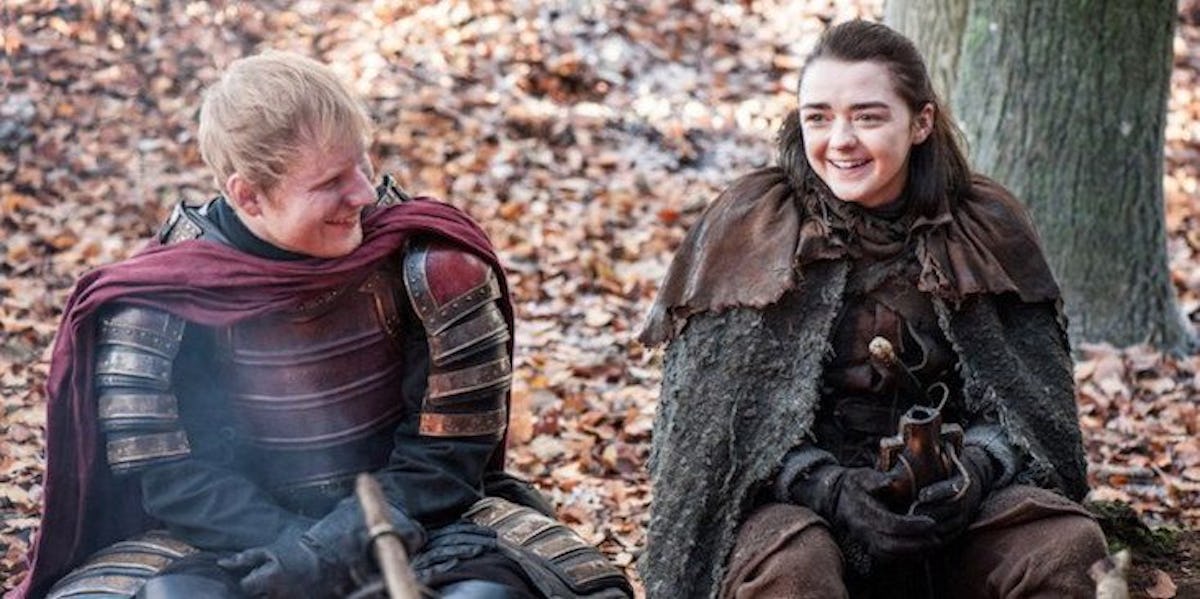 Here's How You Can Listen To Ed Sheeran's Song From 'Game Of Thrones'
HBO
Game of Thrones finally premiered its most high-profile (and head-scratching) celebrity cameo to date in its Season 7 premiere on Sunday night. The series had Ed Sheeran, clad in armor, bonding with Arya Stark around a fire in the forest.
And of course, Thrones couldn't pass up the opportunity to have Sheeran do what he does best. Before we even see the crooner, his voice carries through the woods. Sheeran's character sings a short a cappella number before Arya happens upon him and his group.
It was only a short little ditty, but fans still want to know if they can hear it again without having to fast forward the episode to find the scene. Luckily, it's already up on YouTube.
Various clips of Sheeran's performance have been uploaded to the video streaming site, most of which title the song "Hands of Gold." Have a listen, and read the lyrics, for yourself below.
It's a totally different sound from Ed Sheeran's poppy "Shape of You." Fitting with the tone of the high fantasy series, "Hands of Gold" is inspired by medieval bards and old hymns.
The sound may be different for Sheeran, but his fans are loving it just as much as his current stuff. In fact, the most common response to the clip online is that Sheeran fans want the singer to record a full version of the song. The quick version that Sheeran sang on Game of Thrones is only about 40 seconds long.
The Game of Thrones spot marks Ed Sheeran's second professional acting gig and, interestingly enough, they both saw him paying a knight. He first showed off his acting chops as a recurring character named Sir Cormac in 2015's The Bastard Executioner, a historical fantasy that had a lot of similarities to Thrones.
Seeing how popular "Hands of Gold" has gotten in just a day, it's not beyond reason that Sheeran could put out a full version for fans to stream and download soon, so keep your eyes peeled!