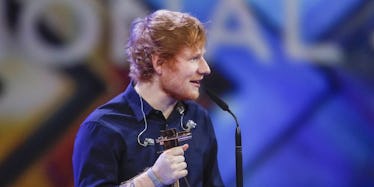 Ed Sheeran Showed Up In The First 'GOT' Episode & We're Freaking Out
Getty Images
This post contains spoilers from "Game Of Thrones" Season 7, Episode 1. 
Game of Thrones has been a game of cameos ever since the show first aired. One could argue that Sean Bean was a glorified cameo in the first season, since he was never going to survive it. (Albeit one that the show denied was a cameo, in order to keep that fact under wraps.)
Over the years, as the show's popularity skyrocketed, more famous people have clamoured to get a moment in Westeros. Some cameos have been from other HBO actors, like Deadwood's Ian McShane. Some have been British actor in-jokes, like Richard E Grant and Essie Davis as the Game of Thrones players last year.
Other cameos have been hidden in the background types, like Coldplay's Will Champion playing in the Frey House Orchestra during "The Rains of Castamere" in Season 3, or hard rockers Mastodon as wights in Season 5's "Hardhome" episode.
Game of Thrones also casts musicians in major roles as well. Natalia Tena, of Molotov Jukebox, played Osha, for instance. Iwan Rheon, who plays Ramsay Bolton, is a folk singer in his other job. But they're singer who are also known for their acting careers. Tena was Hufflepuff Tonks in Harry Potter before she was on GoT, Rheon has been in various BBC productions, and will star in Marvel's The Inhumans on ABC this fall.
So Sunday night's musical guest, one who is not an actor in other venues, having a front and center cameo was a first for the production.
Ed Sheeran, it should be noted, is a psycho Game of Thrones fan. He owns tons of replica props and has made it his business, as a UK-based pop star, to cultivate friendships with those from the show in his age group, including Kit Harington, Sophie Turner, and Maisie Williams.
The former supposedly lobbied to get him a role in Season 6, with rumors that Sheeran might get to play a small role as an army extra in "The Battle of the Bastards." But it was Williams who apparently lobbied this year, to far greater success. Instead of just making the singer a wight, or putting him as a background musician in some house band that plays while lot of people die, the production came up with a pretty ingenious idea on how to use Sheeran.
By the way, the song he's singing is the Symon Silvertongue tune "Hands of Gold," which was stuck in Tyrion's head during his trial days in the books, but the show had let fall by the wayside. Good to see them resurrect it.
Will we see him again later in the season? Or was this a one-and-done? Personally, I hope to see him still singing his song in the Red Keep, as Arya quietly steals up behind Cersei and takes her revenge.
Game of Thrones airs on Sundays at 9 p.m. on HBO.