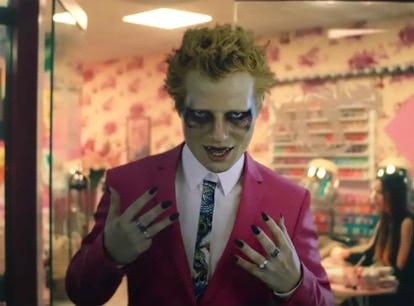 15 Ed Sheeran "Bad Habits" Lyrics For Your Most Shameless IG Captions
Pure intention ends when the good times start.
YouTube
Ed Sheeran is back, and he's returned in vampire form. The pop singer released his new video for "Bad Habits" on June 24 and he was looking absolutely sinister, with fangs and a bright pink suit. The video is already going viral with more than 20 million views in its first week, and Sheeran's lyrics have also made their mark on fans. For Sheerios who can't get enough of the new song, these Ed Sheeran "Bad Habits" lyrics are perfect for Instagram captions.
It had been nearly four years since Sheeran last released a solo single, so a lot was riding on the release of "Bad Habits." On the day he released the song, he revealed the inspiration behind the visual. "Feels great to be back with my new single. I wanted the video for 'Bad Habits' to play on the nature of habits in a fantastical way so I decided on vampires," Sheeran said in a press release. "It was mega fun getting into character except for the heights (that wasn't so fun)."
The song was penned all about how late-night habits with a toxic person, but the lyrics could be interpreted in so many different ways. If you're looking to include a little inspo from Sheeran in your next social media post, these lyrics are a good place to start.
I know I'll lose control.
Every time you come around, you know I can't say no.
I can feel the paradise before my world implodes.
Tonight had something wonderful.
Conversations with a stranger I barely know.
Swearin' this will be the last, but it probably won't.
Yeah, I was lookin' for a way out, now I can't escape.
My bad habits lead to you.
I got nothin' left to lose, or use, or do.
Pure intention ends when the good times start.
Fallin' over everything to reach the first-time spark.
It started under neon lights.
Lookin' for a way out.
I only know how to go too far.
We took the long way 'round and burned 'til the fun ran out.