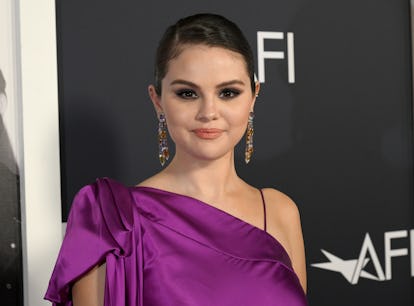 Selena Claims She's Single, But Her Rumored New BF's Ex Just Pulled A Shady Move
Michael Kovac/Getty Images Entertainment/Getty Images
The relationship drama involving Selena Gomez and Chainsmokers singer Drew Taggart just got an interesting development. Although Gomez seemed to shut down the rumors she and Taggart were dating in an Instagram post claiming she's single, fans couldn't help but notice another strange IG update. Right after reports surfaced of Gomez and Taggart's alleged relationship, Taggart's recent ex-girlfriend Eve Jobs deactivated her Instagram account. Could this be Jobs' response to her former BF moving on with someone new? Internet sleuths are still trying to figure it all out.
Reports that Gomez and Taggart had begun dating first surfaced on Jan. 16, and then a couple days later, photos of the pair on a bowling date seemed to confirm the relationship. However, Gomez maintained she's currently single in a post to her Instagram Story on Jan. 19.
While all of that was happening, fans picked up on another eyebrow-raising update: Taggart's ex Eve Jobs deleted her Instagram on Jan. 17. Taggart and Jobs, the daughter of Apple founder Steve Jobs, began seeing each other in the summer of 2022 before making things official in September. The couple never actually announced a breakup, and Taggart shared photos celebrating his birthday with Jobs as recently as Dec. 31, mere weeks before the Gomez rumors started.
It's unclear if Taggart and Jobs are really broken up or not, but Jobs deactivating her Instagram right when the Gomez rumors began seemed to be sending a message.
It's possible Gomez and Taggart are just keeping things super-casual and that's why Gomez said she's single, or maybe Jobs deleted her IG because she didn't want to be involved in any of the chatter about Taggart. For now, it sounds like fans are just going to have to wait to see if one of them explicitly addresses the gossip.