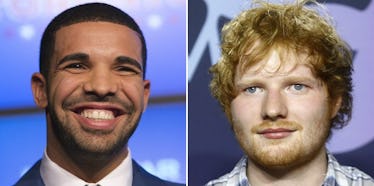 Drake Fans Are Trolling Ed Sheeran's Fans On Twitter After Drizzy Broke His Record
REUTERS
It's Drake season, and the haters are out in full force.
What else do you expect? I mean, this is Drake we're talking about here. The man's had haters since he was Wheelchair Jimmy. Some things never change!
After dropping his highly anticipated "playlist" titled More Life, the 30-year-old artist is already breaking streaming records (as expected) on popular music streaming platforms like Spotify -- and the haters are pissed.
While this is great for Drizzy and his camp, it must be noted Ed Sheeran was just reigning supreme on Spotify after his third studio album Divide garnered over 56,727,861 first-day streams on March 3.
Impressively, Sheeran also held the record for being the artist with the most plays (68,695,172) on the first full, 24-hour day his album was out.
In other words, all was going fantastic in Ed Sheeran's world before Drake and More Life came along to SHATTER HIS EFFING DREAMS. Sheeran held both records for just 16 days.
It turns out Drake just broke both of Sheeran's Spotify streaming records after raking in 61,302,082 streams on the first day More Life was released.
As for the first full, 24-hour day that the "playlist" was out, the Canadian rapper pulled in 76,355,041 streams. Something tells me those JLo references had something to do with these monstrous numbers.
Sorry, Ed Sheeran, but it looks like Drizzy just jacked the streaming throne!
After news broke about Drake dwarfing Ed Sheeran's streaming numbers on Spotify, a massive fandom battle ensued.
Twitter basically imploded as Sheeran fans expressed their hate for Drake and vice versa.
Calm down, people. Both of their projects are FIRE.
Numbers don't mean a thing...
Or do they?!
As you can see, people are pissed.
It's OK, Drizzy. These people don't actually mean what they're saying.
Plus, Ed's catching a whole lot of flack, too.
Don't cry, Ed.
Something tells me there's only one way to fix the heated war between Sheeran fans and Drake stans...
They need to hop on a track together "for the culture." Not on this guy's watch, though.
There are people who don't care much for Drake or Ed Sheeran.
The way I see it, they're both big winners.
Spotify streaming numbers weren't the only standout stats for Drake following the release of More Life. According to Mashable, in only 36 hours, the 30-year-old also racked up over 2.5 million tweets regarding the playlist.
Even Lorde can't get enough of it.
Oh, and did I mention that these numbers aren't even including the 89.9 million streams Drake earned during More Life's first 24 hours on Apple Music?!
Sorry, Drake loathers! To quote a young 50 Cent, "Hate it or love it, the underdog's on top."
Citations: Drake wasn't about to let Ed Sheeran hold onto his new Spotify records (Mashable)