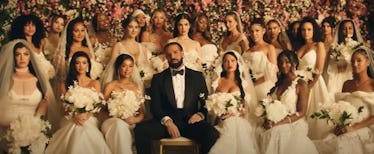 Meet The 23 Women Drake Married In The "Falling Back" MV
Tristan Thompson also appears, for some reason.
YouTube/Drake
Drake broke the internet when he surprised fans with his seventh studio album, Honestly, Nevermind, on Friday, June 17. As if that wasn't enough, the rapper dropped the music video for his new single, "Falling Back," the same day. The nine-minute video shows Drake marrying 23 brides in an over-the-top wedding that also features a rabbi and his mom, Sandi Graham. Oh, and Tristan Thompson makes a cameo as Drake's best man because why not?
After the rapper gives each bride a ring and celebrates their nuptials with a unique handshake, he goes off to party with all 23 of them on the dance floor. Before the video ends, Drake spotlights each bride who smiles at the camera as their Instagram handle appears on screen. He also gives them a final shoutout during the credits.
If you're wondering who these 23 women are, here's the (long) list.
Drake's Honestly, Nevermind album is available to stream now.