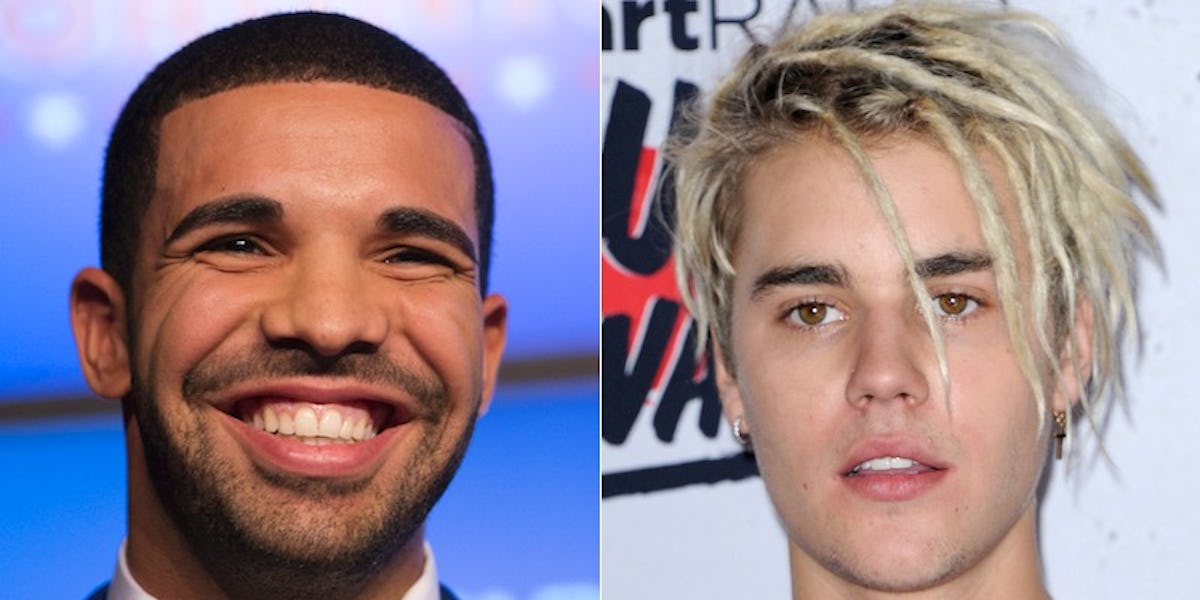 Drake Just Passed Justin Bieber As Spotify's Most-Streamed Artist Of All Time
REUTERS / Shutterstock
Whether you like him or not, Drake's been having a great year so far.
After releasing his highly anticipated fourth studio album, VIEWS, the Toronto-native has been crushing everything in his path. It's not everyday you hear about an artist charting 20 songs on Billboard's Hot 100 list at the same damn time.
Drake's back with more record-breaking news, and fellow Canadian Justin Bieber better watch out!
No, it is not a meme battle, although I'm sure Drake's hilarious VIEWS memes would win, too.
According to HotNewHipHop, Drake just surpassed Bieber as Spotify's most-streamed artist EVER. If you know anything about the Biebs' super loyal, diehard fan base, you know this is something you never saw happening.
It turns out Drake's hit tracks have been played about 10 million times more than Bieber's. Compared to Drizzy's 3,185,045,281 plays, Bieber's plays total out at 3,175,636,461.
Ed Sheeran trails behind with 2.15 billion plays.
Keep in mind, Drake's latest album, which went platinum in one week, was exclusively released on Apple Music prior to debuting on Spotify.
Love him or hate him, this Rihanna-obsessed Canadian isn't going anywhere.
Check out Drake's "Hype" from "Saturday Night Live" when he recently hosted!
Citations: Drake Surpasses Justin Bieber On Spotify As Most Streamed Artist Ever (HotNewHipHop), Drake Breaks Hot 100 Record With 20 Simultaneous Hits (Billboard)