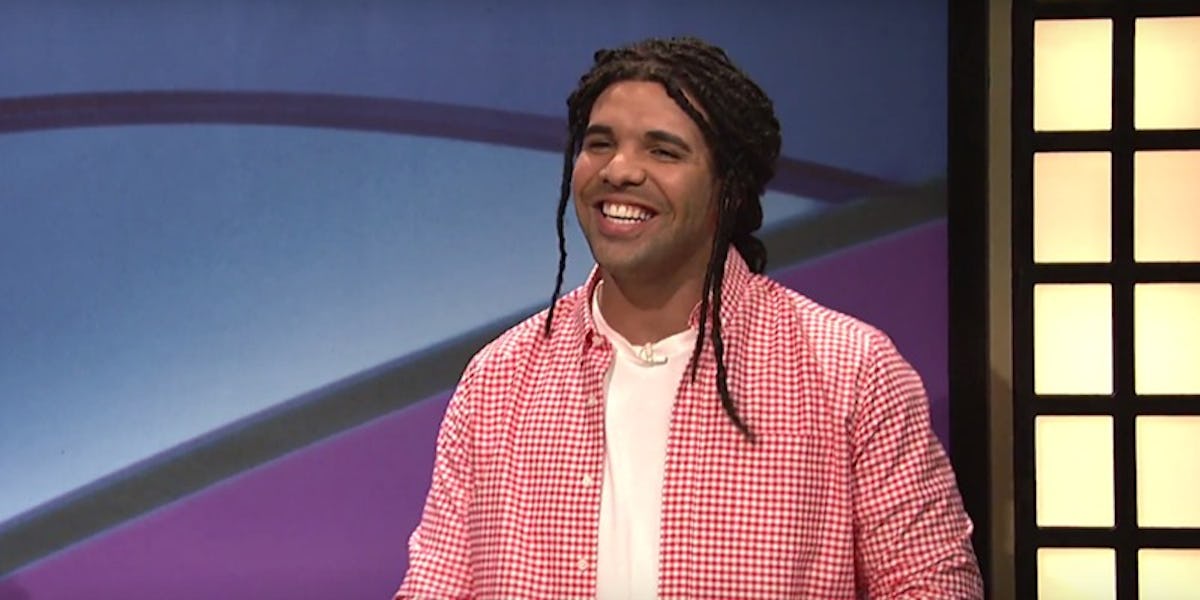 Drake Went Full Canadian For 'Black Jeopardy!' In This 'SNL' Sketch
YouTube/NBC
Drake hosted "Saturday Night Live," and the sketches were all over the map. Some were funny, some were just not and then there was the hysterical "Black Jeopardy!" skit.
For the sketch, Drake joined Kenan Thompson, Jay Pharoah and Sasheer Zamata as they played "Jeopardy!" with categories such as "If It's Sunday," "Oh Snap!", "Bye, Felicia," "Bruh...", "In My House" and, of course, "White People."
Drake plays a Canadian black person with dreadlocks named Jared, which probably not coincidentally happens to be Jay Pharoah's first name, who doesn't fit so-called "black" stereotypes. Jared proves this by buzzing into everything with stereotypical Canadian answers like Jaromír Jágr, who is Czech but plays hockey, one of Canada's national sports.
When posed with one answer from the "Oh Snap!" category -- "This comedian was crazy in the '80s with his raw and delirious routines" -- I assumed Eddie Murphy. Jared buzzes in with a hilariously clueless but super Canadian response: Rick Moranis.
So yeah, when I say Drake went full Canadian, I mean it.
Luckily for Drake and the "SNL" writers, the jokes happened to be pretty funny, and with a veteran cast member like Kenan playing the show's host, Darnell Hayes, the sketch managed to be funny while not crossing the line.
To that end, Drake had an out-of-place but poignant line about black people, saying, "Come on, Darnell, black people live all over the world, G, you can't just put us all into one category." Kenan's follow-up joke about American police didn't go over well with the audience, but it was savagely sharp, if not funny.
There were also a few extremely well-placed jokes about Jay Z and Beyoncé as well as Caitlyn Jenner and Tyler Perry, but I'll let you check all the jokes out for yourself in the video at the top.
Citations: Drake is too Canadian for 'Black Jeopardy' on 'SNL' (Mashable)