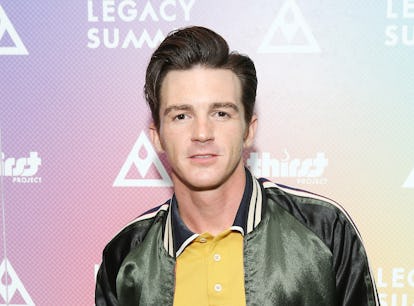 Drake Bell Has Been Found After Considered "Missing and Endangered" in Florida
Daytona Beach Police Department previously announced they were looking for him.
Michael Tran/Getty Images Entertainment/Getty Images
Former Nickelodeon star Drake Bell has been found after he went missing and was considered "endangered" in Florida. In the early morning of Apr. 13, the Daytona Beach Police Department posted on Facebook stating that officers were searching for Bell. Hours after the post, the police department confirmed that Bell was safe and in contact with law enforcement officials.
According to the original police notice, the Drake & Josh actor reportedly went missing near a high school the night prior. "He should be traveling in a 2022 grey BMW and his last known location is potentially the area of Mainland High School on 4/12/2023 just before 9 p.m.," the post read alongside a cropped photo of Bell.
At first, some users believed the report was a hoax. The police department cleared up the suspicion in the post's comments section and labeled their notice as "legitimate." They also directed those with information on Bell's whereabouts to contact Detective Jayson Wallace. So far, no other details have been released.
Bell's missing report follows a string of run-ins with the law over the last few years. In June 2021, the actor — whose real name is Jared Bell — was arrested for attempted child endangerment and disseminating matter harmful to juveniles. According to Variety, a 19-year-old girl alleged Bell groomed and sexually assaulted her when she was 15. He was later sentenced to two years' probation and 200 hours of community service.
The year prior, Bell's ex-girlfriend Melissa Lingafelt accused him of verbal and physical abuse during their two-year relationship from 2006 and 2008. In several TikTok videos, Lingafelt alleged Bell drug her down a flight of stairs in their home amongst other forms of physical assault.
Bell has denied the claims, stating he "will not allow these offensive and defamatory allegations to go unchallenged" and that he's "reviewing his legal options."
In December 2015, Bell was arrested on suspicion of a DUI with a bail set at $20,000. At the time, he pleaded no contest to a misdemeanor and spent four days in jail in 2016.