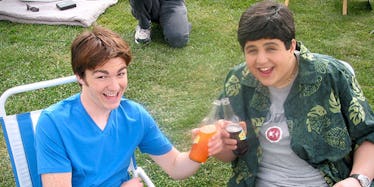 Nickelodeon Star Drake Bell Arrested On Suspicion Of DUI In California
Musician and star of Nickelodeon's "Drake & Josh" Drake Bell, 29, was arrested early Monday morning on suspicion of driving under the influence in Glendale, California.
Glendale Police Spokeswoman Tahnee Lightfoot says Bell was pulled over around 2:20 am after making an abrupt stop at a red light. He was reportedly swerving and speeding at the intersection of West Doran Street and San Fernando Road.
Lightfoot says the police officer who pulled Bell over smelled alcohol coming from the car and subsequently performed a roadside sobriety test, which Bell failed.
Since "Drake & Josh" aired its final episode in 2007, Bell has held several roles in both television and film including "Superhero Movie," three Marvel TV series in which he plays Spider-Man and Disney animated series "Ultimate Spider-Man."
According to Entertainment Weekly, Bell was later released on $20,000 bail.
Citations: Actor-musician Drake Bell arrested on suspicion of DUI in Glendale (LA Times)