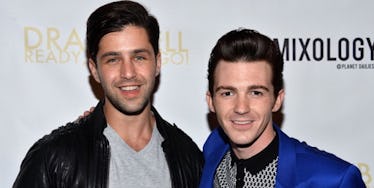 Drake Bell Says He'd "Love To Do" A 'Drake & Josh' Reunion, So The Wedding Drama Is Over
Amanda Edwards/GETTY
OK, fellow celeb-drama-hungry vultures, I've got some bad news for us all (just kidding, it's actually great news for both celebs involved and for '00s kids everywhere): The Drake Bell and Josh Peck wedding drama is officially over. If you remember correctly, light years ago, back in June, Josh Peck got married to his longtime girlfriend and *apparently* didn't invite Drake Bell to the wedding. Since then, we as a group have been eating popcorn, sipping tea, and following the summer saga of a lifetime. Recently, though, Drake assured us the beef is squashed and even said he'd be down for a Drake & Josh reunion episode, effectively putting an end to this telenovela.
You'll remember after Drake found out he wasn't invited to Josh's wedding in June he did what I do when I'm mad at my mom for buying the wrong kind of peanut butter: subtweeted and immediately deleted a bunch of passive-aggressive stuff. Naturally, the internet, being as glorious as it is, sniffed out the drama and made it a whole big thing that's lasted pretty much all summer.
Drake Bell himself was even surprised at the widespread reaction to Wedding Gate 2017, telling People magazine,
I didn't think it would be that big of a deal. I did not realize that it was going to have such a viral effect.
After months of stress, though, it seems like all is finally fine and good with the former Nick stars. In an interview with Entertainment Tonight, Drake explained how much of the tension between the two sparked because he and Josh have a relationship like siblings (clearly Drake & Josh was not just a brilliant marketing move on Nickelodeon's part), and his feelings were hurt when he found out about the wedding on social media. He added that he and Josh have talked and worked things out since then, and then said... drum roll please...HE WOULD BE OPEN TO A DRAKE AND JOSH REUNION.
That's right, you read that correctly; when ET asked Bell about the possibility of a reunion show with him and his former on-screen bro, he responded with,
I would love to do it. I would love to. If there's time, if it's in our schedules and it's right, I would jump in it in a second. Because… there's actors that I've done TV shows with, movies with, another TV show with, a pilot with, and still don't have the connection that I have with Josh, you know? The chemistry… and what I have with Josh is so unattainable in this business.
Well, I'm not really sure where to go from there. I guess all I can do is assure both Drake and Josh that we as fans are open to a reunion show, too. So, Nickelodeon, if you're reading this, get on the horn and make it happen. We've already got Rocko's Modern Life, Hey Arnold!, and Invader Zim in the works, why not add Drake and Josh?