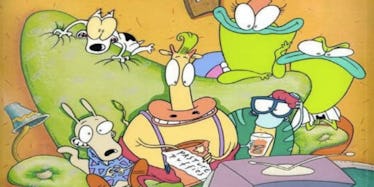 ATTENTION '90s KIDS: 'Rocko's Modern Life' Is Coming Back To TV With A New Name
Nickelodeon/YouTube
OK, '90s kids, it really seems like our dreams are coming true these days. First Jurassic World hit theaters in 2015, then a Jumanji reboot was announced, and now it looks like Rocko's Modern Life is returning to television in 2018.
Yea, you read that correctly. The sometimes confusing yet always entertaining cartoon that perfectly encapsulates the '90s is getting a revival next year after being off the air for over 20 years, and we're pumped AF about it.
According to Nickelodeon in an interview with Entertainment Weekly, everyone's favorite wallaby and the rest of his O-Town gang are heading back to the orange-themed network for a one-hour TV special called Rocko's Modern Life: Static Cling where the characters will have to learn to live in the digital age.
Rocko's Modern Life went off the air in 1996, and, according to this synopsis on Movieweb, that's exactly where the television reboot will pick up. It reads,
[Rocko's Modern Life: Static Cling] brings the characters back to Earth after being lost in outer space since 1996. Rocko has trouble accepting this 21st century modern life, while Heffer and Filburt embrace every aspect of new technology, social media and the endless diversity of food trucks. Rocko whole-heartedly believes that his nostalgia for the past can save him from the tortures of the modern world.
Clearly, the writers are looking for a storyline that will appeal to the fans of the original cartoon, as this plot seems just kooky enough to fit in with Heffer, Filburt, and the Bigheads.
Another awesome aspect of this revival is that all of the original voice actors will be reprising their roles for the TV special, making it that much more authentic.
While this is exciting, it's not the only former Nickelodeon show scheduled to have a revival. (I KNOW. RIGHT?!). It looks like Hey Arnold! The Jungle Movie will be released later this year and Invader Zim will see a reboot next year.
Now we just need to keep our fingers crossed for a Rugrats reunion and we'll be all set.