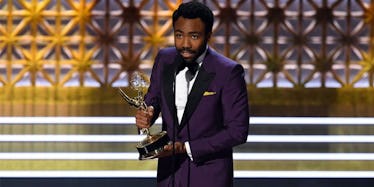 Donald Glover Revealed If He'd Direct A 'Star Wars' Movie & Our Fingers Are Crossed
Kevin Winter/Getty Images
Donald Glover had a huge night at the 2017 Emmys, and now everyone wants to know what else the triple -- make that quadruple -- threat is going to do next. The actor/writer/director/musician has a bunch of projects in the works in addition to his fantastic and now Emmy-winning series Atlanta. Fans would probably love seeing Donald Glover directing a Star Wars movie next given his insane talent, but would he do it? The big winner spoke to Entertainment Tonight about his future with the legendary franchise behind the camera. He admitted,
I would be honored, but it's a big plate, its a big plate. That's a buffet plate. I don't know if I'm ready for that yet.
Aaaand now we can't stop thinking about that possibility. Make some room on your buffet plate when you're ready, Donald! Glover is already a new member of the growing Star Wars dynasty -- he's going to be portraying Lando Calrissian in forthcoming Han Solo movie, which is slated for a 2018 release. So we know he has an in with Lucasfilms... and award winning skills to boot.
Glover picked up his first two Emmy wins on Sunday and made history in the process. He took home the trophy for Outstanding Lead Actor in a Comedy and became the first black director to ever win Outstanding Directing for a Comedy Series. Donald pulled directing duty for arguably two of the strongest Atlanta episodes in the FX show's first season, "B.A.N." and "Value." He landed his Emmy for his work on the former.
Donald is clearly adept to take on anything that comes his way, but it does seem like he's got a lot going on these days. Atlanta Season 2 reportedly begins production this month and unfortunately won't be back on our TV screens until 2018. And he wants the sophomore installment to be better than the first. Pressure much? "I want you to be able to watch the first season and be like 'Wow, I like that season, but the second one is way better.' I want that debate happening," he told Variety of his hopes for the episodes to come. Not only will Glover continue to produce, write, direct, and star on Atlanta, he also signed on to create a new series for FX Networks.
On top of all the TV commitments, Donald Glover is about to step in the paws of an iconic Disney king. He's set to star in the upcoming star-studded live action version of The Lion King, in the role of Simba. We can't wait.
Oh, and let's not forget his music career as Childish Gambino. He told reporters backstage at the Emmys that a Chance the Rapper mixtape could be on the way sometime soon...
In addition to all the entertainment projects Donald has got his magic touch on, he has a new baby on the way. He revealed in his emotional Emmys acceptance speech that he and his partner Michelle are expecting a little boy. "I want to thank my unborn son," Glover said. "We're listening to Stevie tonight" Aww. The couple already has one son together. Talk about a lot on the buffet plate.
At only 33, Donald has had the kind of career some people in the entertainment industry could only dream of. Before becoming a household name with a leading role on Community, he wrote for 30 Rock when he was just out of college. Since then he's won a Critics Choice Award, two Golden Globes, two Emmys, and he's even been nominated for Grammys. With Atlanta, a starring Star Wars gig, and a Disney movie in the works, we don't blame him for not being quite ready to take on directing one of the most beloved, analyzed, and sacred cinematic franchises in history. But we have a feeling the force will be with him if and when the time comes.