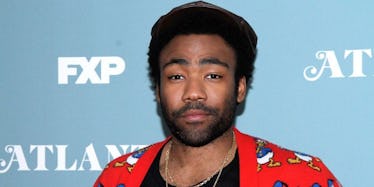 Donald Glover Reveals His Partner's Name In Emmys Acceptance Speech & We're Swooning
Donna Ward/Getty Images
Zaddy of the century Donald Glover has already won two Emmys, made history, and rocked a purple suit tonight. He also name-dropped a mysterious "Michelle" in his acceptance speech for Outstanding Actor in a Comedy, and everyone is wondering... who is Donald Glover's Partner? (And whoever you are, we are all jealous.)
Basically, fans of Glover have known for a while that he has someone in his life, as his first child was born earlier in 2016. He and the mother of his child have been spotted out together several times in the past, but her identity has largely remained a huge secret, with fans constantly scratching their heads, trying to figure out who she is... until now, it seems. Could this elusive Michelle be the girlfriend everyone's been wondering about?
In addition to his girlfriend, Glover, 33, the creator and star of the excellent FX series Atlanta, also shouted out Donald Trump in his speech when he said, "I want to thank Trump for making black people number one on the most oppressed list. He's the reason I'm probably up here." Seriously, his shade level was 100, and we are all on board.
If you weren't able to catch Glover's full speech, you can read his touching, grateful words here:
I'm so happy. Wow! Thank you guys so much. This is nuts. I really want to thank the Academy again, everybody in here, you guys, I love you. I want to thank my mom and my dad again. I want to thank the city of Atlanta. I want to thank FX. I want to thank— I want to thank Michelle, my partner. You love me even how crazy I get. I want to thank my baby, my son, for just being the joy in my life. I want to thank my unborn son. We're listening to Stevie tonight. I want to thank Trump for making black people number one on the most oppressed list. He's the reason I'm probably up here. And I just want to thank all the writers and all the people in here and everybody doing great work, because it's so necessary and I really appreciate everybody here. Thank you so much.
As if Glover didn't already keep his personal life under lock and key enough, he also dropped another huge bomb on everyone when he literally thanked his unborn son in his speech, signaling that baby number two for him and (presumably) Michelle is well on the way. What else are you hiding, Donald?
Fittingly, Glover made history as the first black director to win for Outstanding Direction for a Comedy Series with his earlier win of the ceremony. Massive cheers to that. Now that we've acknowledged the awesome, multi-talented, extremely dapper visionary that Glover is, let's get back down to the juicy stuff, shall we? Who is this Michelle he is allegedly dating? Because she must be the coolest.
The couple is super private, which makes me immediately feel bad about being so curious as to finding out who this lovely lady is, but I mean... DG is a gem, I Instagram-stalk my ex's new GF all the time, and how can I not be curious? When Sterling K. Brown won for This Is Us and shouted out to "Dick Whitman" — Don Draper's real identity, for all of you non-Mad Men fans — many normal people probably heeded his advice to "Google it." So of course, when Glover mentioned "Michelle," I immediately Googled it.
Until now, the tabloids had some pictures, but little other information on Glover's partner and mother to his child. Whoever "Michelle" is, I send my congratulations to her, because she snagged herself a great one.