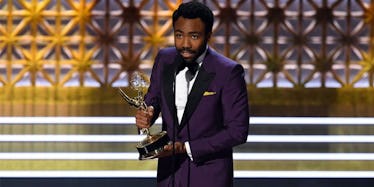 Donald Glover Gave Trump A Shoutout In His Emmys Speech For The Most Savage Reason
Kevin Winter/Getty Images
The Emmys may *technically* be about the best TV of the past year, but for the 2017 awards show, let's be real, it's about gawking at some very good looking actors. I mean, Riz Ahmed, Milo Ventimiglia, James Marsden, the list of internet crushes nominated for Emmys, or on nominated shows, is endless. And thankfully, we got to see one take the stage when Donald Glover won the Emmy for Best Actor in a Comedy Series for his starring role in FX's Atlanta. But I hope you were able to pay attention to what he was saying on stage, because Donald Glover's Emmys acceptance speech was incredible.
Glover was clearly thrilled when he took the stage and started by simply saying, "Yo, I'm so happy, wow. Thank you guys so much." And he should be, as Best Actor in a Comedy Series was a tough category — nominees also included Zach Galifianakis for Baskets, Anthony Anderson for black-ish, Aziz Ansari for Master of None, William H. Macy for Shameless, and Jeffrey Tambor for Transparent. All of the shows garnered a ton of praise for their seasons — especially Master of None and black-ish — but of all those series, Atlanta had the most nominations with a total of five. And yes, in addition to this category, Glover won another Emmy.
He also took home the trophy for directing an episode of Atlanta ("B.A.N."), but lost in his other categories — Best Writing in a Comedy Series (also for "B.A.N.") and for the show's Outstanding Comedy Series nomination. But Glover made his time on stage count and delivered an especially great speech for Best Actor.
After being adorably excited, Glover continued and said to the crowd:
This is nuts. I really want to thank the Academy again, everybody in here, you guys, I love you. I want to thank my mom and my dad again. I want to thank the city of Atlanta. I want to thank FX.
Then, he thanked the important people in his life who are usually kept completely out of the spotlight.
I want to thank —  I want to thank Michelle, my partner. You love me even how crazy I get. I want to thank my baby, my son, for just being the joy in my life. I want to thank my unborn son. We're listening to Stevie tonight.
Honestly, the name Michelle is pretty much the most information we've ever gotten from Glover about his partner. And that quick "unborn son" line? That was his way of announcing that he has another baby on the way. So fans of Glover have quite a few reasons to be excited on Emmy night.
But once he thanked his family, the actor switched gears and went for a very different kind of thank you. He said,
I want to thank Trump for making black people number one on the most oppressed list. He's the reason I'm probably up here.
Damn. Now that is a burn. As much as all of us would have liked to see Glover take President Trump down another peg, he wrapped up the speech shortly after that and said:
And I just want to thank all the writers and all the people in here and everybody doing great work, because it's so necessary and I really appreciate everybody here. Thank you so much.
It was brief, but he managed to thank the necessary people, make a big personal announcement, and take a shot at President Trump. Only Glover could pull all that off before being played off the stage, and it shows why he was nominated in so many categories at the 2017 Emmys.