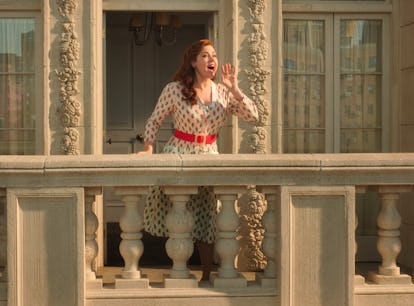 All The Disney Easter Eggs In Disenchanted
Disney Enterprises, Inc. © 2022 Disney Enterprises, Inc
The original 2007 Enchanted film was a love letter to Disney films, as well as a meta-commentary on its silly, fantastical tropes. That resulted in a movie in which an animated princess falls into the real world, stacked to the gills with references and nods to the princess flicks that came before it. The follow-up, Disenchanted, turned the story on its head, creating a fantasy kingdom in the real world, with even more Disney Easter eggs than ever before. Here's every Disney fairy tale reference in Disenchanted, including the ones you missed.
Warning: Spoilers for Disenchanted follow. Enchanted begins in an animated world where Giselle, the innocent princess, does not know she's about to be kicked out into the real world. Her animated life is nothing but references to Disney films. Her castle is the one from Sleeping Beauty; the cottage is Snow White's; her carriage is from Cinderella. The frog from The Princess and the Frog hops by, Rapunzel visits, and Giselle arrives in the real world the same way Alice arrives in Wonderland in Alice in Wonderland. And those are just the obvious Easter eggs.
Likewise Disenchanted borrows liberally from its source material, but in some places, it goes whole-hog, including one musical number entirely comprised of Easter eggs. Let's run them all down.
Enchanted and Disenchanted are both streaming on Disney+.