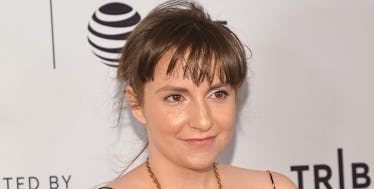 These New Details About 'AHS: Cult' Are Getting Us So Ready For The Next Season
Ben Gabbe/Getty Images for Tribeca Film Festival
If you're still recuperating from the insane terror that was the American Horror Story trailer, you're not alone. Evan Peters as a blue-haired, deranged Donald Trump supporter, with a Saw-like penchant for terror will probably infiltrate my dreams for many months to come. Regardless, we're all still chomping at the bits to find out any/all details about American Horror Story: Cult – and the series' normally tight-lipped creator Ryan Murphy just dropped some very telling clues.
We only know the bare bones of the plot so far, which revolves around Ally Mayfair-Richards (Sarah Paulson) discovering that her fear of clowns has gotten worse since Donald Trump won the election. Meanwhile, Kai Anderson (Peters) appears to be on a mission to terrorize Ally, with the help of his sidekick Winter Anderson (Billie Lourd) – who gives a Twisty doll to Ally's child and it's all very, very creepy.
During a Q&A screening of the first three episodes, Murphy noted that the season will get definitely a little political, though the actual concept was developed before the election results were announced.
Last year, at this time, everybody was talking about the election, and everybody was talking about those two candidates.  Everybody thought Hillary Clinton was gonna win in a landslide. So the opening [of the show] was a little different.
The show really isn't about Clinton or Trump, Murphy added, but instead focuses on the idea of cults.
Peters will play a number of cult leaders, including Charles Manson, Jim Jones and Andy Warhol. The latter (which, yes, is a bit of a head-scratcher) will pave the way for Lena Dunham's cameo, as the real-life Valerie Solanas, who tried to murder Warhol after he rejected a play she had written.
Another surprising guest star? Billy Eichner, who will play a suburban beekeeper (?), because Murphy explained,
Bees are the original cult.
The season will take place in a suburb in Michigan, and Murphy added that there won't be any supernatural aspects of the show.
Do not let either of those details lull you into a false sense of safety, though. That murder house in the first season looked plenty quaint as well – and we all know how that turned out.