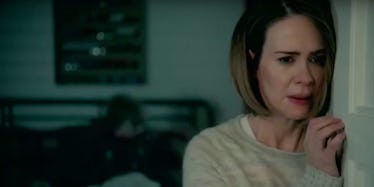 First 'American Horror Story: Cult' Trailer Is Here And It Starts On Election Night
YouTube/FX
Finally! I've been waiting for this moment. The first full trailer for American Horror Story: Cult is here and it looks absolutely insane. The trailer starts off by showing the 2016 election night in Michigan.
Ally Mayfair-Richards, played by Sarah Paulson, starts screaming after it's announced on TV that Donald Trump is officially the next president. On the other hand, Kai Anderson (with his bright blue hair), played by Evan Peters, is pumped about it. So pumped, in fact, that he can't help but hump his TV. Not kidding.
Ally is married to Ivy, played by Allison Pill. Pill is new to the American Horror Story franchise, so I'm excited to see how her character will play out.
In the trailer, Ally tells her therapist, "Since election night it has all been getting so much worse," seemingly talking about her fear of clowns. We also get a look at a book called Twisty: The Clown Chronicles, which fans know is a connection to the Twisty we first met in American Horror Story: Freak Show. Later on in the trailer, Winter Anderson (played by Billie Lourd, another AHS newbie, though she worked with Ryan Murphy on Scream Queens) also has a Twisty doll, which she gives to Ally and Ivy's kid. Super creepy.
We also see a montage of clowns in this trailer, and while that's happening, we hear Kai Anderson say, "If you get people scared enough, they will set the world on fire... It's the most intense physical pain you've ever experienced." We also see him at the end of the trailer standing under a symbol with black and red stripes. He whispers, "Join me." Does that mean he's the cult leader?
Fans cannot handle themselves after watching the new trailer.
American Horror Story: Cult premieres Tuesday, Sept. 5 on FX.