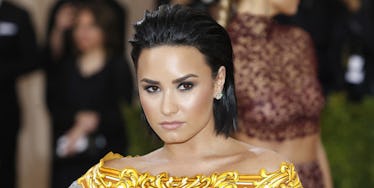 Demi Lovato Revealed How She's Gotten Into Such Incredible Shape
REUTERS
Demi Lovato is officially the new cover girl for Latina magazine's June/July issue.
For the magazine's feature story, the singer opened up about her music, her health and her relationship with Wilmer Valderrama.
Demi Lovato gave yet another raw, honest and inspiring interview. The 23-year-old has always been outspoken and brave when it comes to discussing personal topics such as her long-term battle with eating disorders.
But Demi has prevailed, and now she uses her experiences as a way to advocate for mental health support and resources.
In the interview, Demi touches upon how recovering from an eating disorder has influenced her diet. The magazine actually points out Demi appears to be in the "best shape of her life."
Demi has been working with personal trainer Ronny Camacho since January 2015 to practice meal prep and portion control.
When talking about Demi's diet, Camacho told the magazine,
For her, food was the enemy, and I wanted to show her that food can really be your friend. My goal for her is to eat four meals a day without somebody putting a gun to her head. As far as the workouts, she loves to train hard.
Demi also attributes her healthy lifestyle to the love and support she receives from boyfriend Wilmer Valderrama. She shared,
I've actually been on a meal plan for almost two years now, because in my recovery I have to surrender control over food to somebody else so I can just focus on my mental state. I've been my heaviest in my relationship with Wilmer and also been my thinnest. He's seen it all and loves me equally, and it gives me confidence to know that.
Dating Wilmer and being on a strict diet and exercise plan has helped Demi overcome her body issues and finally find comfort and happiness with who she is.
Keep it up, Demi. We're proud of you.
Citations: Demi Lovato Cover Story (Latina magazine)