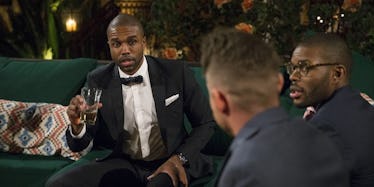 DeMario Jackson's "Show The Tape" Shirt Ahead Of 'BIP' Premiere Is Pretty Obvious
ABC
Reality TV fans almost didn't get a taste of Paradise this season because of a pool hookup gone wrong — and caught on camera. But while fans are breathing a sigh of relief knowing the show will air on Monday, Aug. 14, one of the contestants involved in the scandal made a pretty bold statement ahead of the premiere. DeMario Jackson's "show the tape" shirt made it very clear that he wants Warner Bros. to air the footage so he can clear his name.
While out in West Hollywood on Friday, Aug. 11, Jackson wore a black t-shirt that read, "Show the tape!!!" presumably alluding to his brief stint on Bachelor in Paradise. Early in filming the fourth season, contestants Corinne Olympios and DeMario Jackson were at the center of a scandal that rocked the show to its core, and almost caused the season to be cancelled. Jackson and Olympios were getting hot and heavy in the pool, when questions about consent came into play.
After the alleged encounter gone wrong, filming was shut down while an investigation took place.
Though the investigation ultimately found no misconduct, each contestant had a very different take on the pool hookup. Jackson has said he's in favor of showing the tape to prove he did not act inappropriately toward Olympios.
"I'm glad footage of that day is being shown. I've always stuck to my truth and said, 'roll the tape,'" he told Entertainment Tonight. "This is a victory for all men who have been falsely accused."
 Olympios released a statement to TMZ earlier this year that read,
I am a victim and have spent the last week trying to make sense of what happened on June 4. Although I have little memory of that night, something bad obviously took place. As a woman, this is my worst nightmare and it has now become my reality.
Warner Bros. will not air the controversial footage, according to TMZ, though commercials advertising the season capture the brief first moments of the two jumping into the pool. But if they do, both should be able to consent if these scenes are going to be shown to the public.
Though the two have different takes on the encounter — and different feelings about watching the tape — there will still be a reunion show, though they are not set to come face-to-face.
Bachelor in Paradise is only starting, but the feud between the two has been ongoing. Time will tell how it all unfolds.