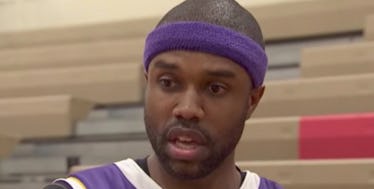 DeMario's Lawyer Says 'Bachelor In Paradise' Allegations Caused "A Lot Of Trauma"
YouTube
DeMario Jackson's lawyer has released a statement amid allegations surrounding the 30-year-old reality TV star.
The alleged sexual misconduct that unfolded between DeMario and Corinne Olympios during the brief fourth season of Bachelor and Paradise made the cast's time in Mexico anything but.
After the alleged encounter between DeMario and Corinne, production of the reality dating series was shut down. Now, Warner Brothers is investigating the situation.
According to Variety, DeMario's lawyer, Walter Mosley, said, "This has caused a lot of trauma — both physical and emotional injury. It's been difficult for DeMario and his family. He's a celebrity for all the wrong reasons."
Since the cancellation of the show, both stars have spoken out about the incident, but with very different takes.
Corinne released a statement to TMZ that read,
I am a victim and have spent the last week trying to make sense of what happened on June 4. Although I have little memory of that night, something bad obviously took place. As a woman, this is my worst nightmare and it has now become my reality. As I pursue the details and facts surrounding that night and the immediate days after, I have retained a group of professionals to ensure that what happened on June 4 comes to light.
DeMario, who has since been fired from his job after the BIP cancellation, released his own statement to E! News that read,
It's unfortunate that my character and family name has been assassinated this past week with false claims and malicious allegations. I will be taking swift and appropriate legal action until my name is cleared.
When Inside Edition asked DeMario if he blames Corinne for the loss of his job, he reportedly said he doesn't hold anyone accountable. However, the one thing he and Corinne seem to agree on is accessing the tapes of what unfolded on the show.
Mosley said, according to Variety, "I have requested the tapes and I'm hoping to see [them] next week. The tapes are the real facts needed to vindicate DeMario's name."
Others are coming forward to speak up about the alleged incident.
DeMario's ex-girlfriend Lexi Thexton, who famously outed DeMario's relationship status during The Bachelor, claimed to TMZ that he is a "sh*tty person," but would not take advantage of a woman.
According to E! News, Paradise contestant Jasmine Goode claims that in addition to Corinne's interaction with DeMario, Corinne also allegedly "forced herself on three male cast members when they were unable to consent." An unnamed source told E! that this is untrue.
Former Bachelor star Raven Gates, who vied for Nick Viall's heart alongside Corinne, told Radar she is "sick to her stomach" for DeMario.
Clearly, there are many people with differing opinions on the situation, and no one's holding back.