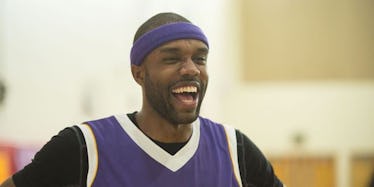 DeMario Jackson Is Reportedly Being Considered For 'Dancing With The Stars'
ABC/Michael Yada
Attention Bachelorette fans, it looks like we haven't seen the last of DeMario Jackson. According to reports, it's possible we're going to see DeMario Jackson on Dancing With The Stars next season. If you were heartbroken that Jackson didn't return to Bachelor In Paradise following the alleged scandal involving Corinne Olympios earlier this summer, your prayers have been answered because Jackson clearly hasn't had his fill of reality TV just yet.
Jackson is reportedly being seriously considered for a spot on DWTS by the show's producers, TMZ  reports. Nothing is confirmed yet, but Jackson did tell TMZ he's interested in competing in the upcoming season. Elite Daily reached out to Jackson's team for comment, but did not hear back by time of publication.
When asked if he would be interested in appearing on the show, Jackson said,
I would murder 'Despacito' on that show. People don't understand, I'm like a black Latin salsa dancer, so I would love it. If I got the opportunity to dance with the stars, it would be something that I would 100 percent welcome. It would be amazing to go out there and showcase some of my dancing skills.
Well, that sounds like a campaign if I ever did hear one. The next time we'll see Jackson on our TVs is when he appears on the reunion episode of BIP — the only BIP episode Jackson has reportedly committed to appearing in following the controversy.
The last Bachelor/Bachelorette contestant we saw on ABC's DWTS was Nick Viall. He didn't end up winning, but Viall did impress people with his dancing skills. Sean Lowe and Chris Soules have also appeared on the show, but they didn't win either. Oh well!
TMZ reports Jackson is allegedly already in the negotiation phase with the DWTS team, but it sounds like Jackson is already ready to throw on some tights and hit the rehearsal studio, like, right now. Jackson told TMZ,
At the end of the day, my number one reason of going on The Bachelor and Bachelor In Paradise was not only to find love, but to make America smile again. We're at a very dark time right now with all this crazy stuff. It seems like we're all trying to be against one another, so I just want to make people smile. Even if you're smiling if you're laughing at me, you're still smiling.
In case you missed this amazing thing, last week a tweet surfaced that featured a video of DeMario Jackson hitting on Britney Spears in 2008. Yes, you read that right. Britney. Freaking. Spears. He kept on trying to give her his number, but she was like "nah."
In the video, Jackson says he's an "up-and-coming actor." He said, "My name's DeMario Jackson. I'm an up-and-coming actor, I want to be like you. I want everyone to see me on TV."
Uh, yeah, DeMario, we got that.