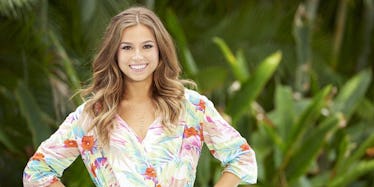 Do Dean & Kristina Get Engaged On 'Bachelor In Paradise'? Twitter Has Some Thoughts
ABC/Bob D'Amico
As much as I would have like to see Dean Unglert get engaged to Rachel Lindsay on The Bachelorette, clearly those dreams are now long gone. But though I may be forced to accept boring Bryan from Miami into my life, that does not mean I need to give up on true love for my man Dean. And Dean's happiness seems to all hinge on one question at this point: Does Kristina get engaged on Bachelor in Paradise?
Allow me to explain: Dean is on Bachelor in Paradise. Kristina Schulman is also on Bachelor in Paradise. She's a veteran of Nick Viall's most recent season of The Bachelor. As a Bachelorette fan favorite and final four contestant, Dean unexpectedly got sent home right after he exposed Rachel to his difficult home life. And Kristina was an equally popular contestant on The Bachelor, who, funnily enough, also got sent home by Nick right after she opened up to him about her difficult home life. Does this mean Dean and Kristina are a match made in a Bachelor in Paradise executive's version of heaven? Fans certainly seem to think so. People are gunning for Kristin and Dean to end up together by the end of Paradise.
It's rumored that Dean and Kristina will be involved in a love triangle with Danielle Lombard in this season of Paradise. Based on the latest Bachelor in Paradise trailer, we do know that Dean does get pretty darn cozy with someone who looks a lot like Kristina.
There's also just been rumors about Dean and Kristina dating floating around even before fans watched Dean get kicked off The Bachelorette. Kristina not-so-subtly tweeted about Dean while The Bachelorette was airing, as well as liked a tweet about him.
Rumors aren't confirmation, but they are often are onto something. Of course whether or not Kristina actually gets engaged remains to be seen, but fans are certainly hoping for the best! Bachelor in Paradise Season 4 premieres on Monday, Aug. 14 at 8 p.m. on ABC.