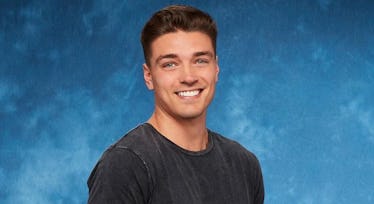 Everything You Need To Know About 'Bachelorette' Contestant Dean
ABC
After a crazy week of unscripted Bachelor in Paradise drama, it's time to get back to some good ol' fashioned curated drama on tonight's episode of The Bachelorette. 
We're heading into Episode 4 of Rachel Lindsay's Bachelorette season, and this week is all about Dean Unglert.
You guys know Dean. He's a 26-year-old "startup recruiter" in southern California, according to his profile on ABC.
But more importantly, he's the guy who told Rachel —  the first black Bachelorette — he was "ready to go black and never go back" the very first time he met her.
Yeah, it was awkward and weird -- but apparently, Rachel loved it. In the first episode of the season she told Dean she thought it was "cute" and she "loved the confidence."
Uh, OK, Rachel. Whatever you say.
Then in Episode 2, she sat down with Dean and further implored how much she loved that comment.
"I don't care what anybody else says," Rachel told him. "I loved it."
So, though we may question her judgment a little bit, Rachel is really into Dean.
Luckily for both of them (spoiler!) Dean is the chosen one for tonight's one-on-one date. And the date is... a romantic, sponsored blimp ride!
Poor Dean is afraid of heights, so we'll see how that goes. (It seems cruel the producers and Rachel made him do this?)
But hey, at least there will be plenty of opportunities for comforting hand-holding!
So what else do we know about Dean?
1. He has a budding friendship with fellow contestant Iggy Rodriquez.
Aww, a bro-ship!
2. He watches The Bachelorette with his dog, Nala.
3. He's not super into Twitter.
This is the first of four tweets Dean has ever crafted in his life (not counting retweets). Dean's not a big a Twitter guy!
4. He's originally from Colorado.
I can confirm via Dean's LinkedIn page he attended University of Colorado Colorado Springs for business, but now lives in LA.
5. He really, really loves his dog.
Seriously, as I was stalking his Instagram for this post, every other picture was of his dog. It's sweet.
Hey, if a man loves dogs this much, I'm definitely willing to give him a chance.
Good luck tonight, Dean!