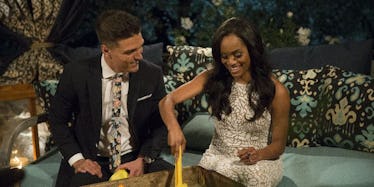 'Bachelorette' Rachel Responds To Contestant Who Said He Was 'Ready To Go Black'
ABC
The Bachelorette fans already know we couldn't even get to the first episode of Rachel Lindsay's season before someone made a bad race joke.
If you're unaware, let me fill you in real quick. The new Bachelorette Rachel got the chance to meet a handful of her suitors back in March on The Bachelor's After The Final Rose special. It was sufficiently awkward, but contestant Dean's remark made it so, so much worse.
Dean joked,
I just wanna let you know: I'm ready to go black and I'm never going to go back.
No. Just, no.
Rachel played off the "joke" sweetly, laughing and saying "I love that." But Bachelor Nation couldn't help but roll their eyes for her.
During The Bachelorette premiere on Monday night, Dean re-introduced himself after emerging from the limo at the mansion and was really interested to hear what Rachel really thought about his remark.
Rachel told Dean,
It was cute, but I love the confidence. People are either gonna love it or hate it. I loved it.
OK, then! To each her own.
Dean also got a chance to get some one-on-one time with Rachel after all the guys got to the mansion. He had a tiny sandbox set up and said he wanted to make sandcastles because he lives in Los Angeles and loves going to the beach with his friends. And, SPOILER ALERT! He doesn't even know how to build sandcastles!
Despite Dean being a very basic white man from LA, Rachel seems to be into him. Even Dean himself said,
She's absolutely out of my league, without a question. I hope it takes her a while to figure that out, I don't know. I guess we'll see.
Only time will tell if Dean wins the heart of our new Bachelorette.
Citations: THE BACHELORETTE Meets Her Guys ... ONE'S 'READY TO GO BLACK' (TMZ)