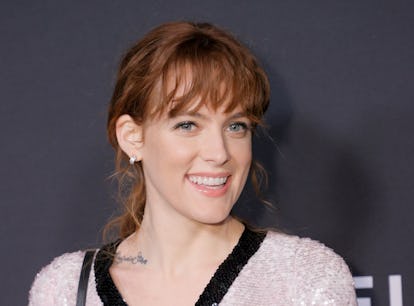 The Full Daisy Jones & The Six Trailer Has A Jarring Character Change
Michael Loccisano/Getty Images Entertainment/Getty Images
In March 2019, Reese Witherspoon selected a novel about a fictional '70s rock band for her mega-popular book club, and it became a sensation. Even before Daisy Jones & the Six was published, Amazon Studios and Witherspoon's production company, Hello Sunshine, saw its potential and bought the rights for a 12-episode limited series. Soon, it will enter into the canon of Witherspoon-scouted and -produced favorites like Big Little Lies and Little Fires Everywhere. As the book, which reads like a documentary transcript, gets turned into a live-action rock series, here's everything you need to know about the cast, release date, and trailer.
Daisy Jones & the Six author Taylor Jenkins Reid took an intimate approach to writing about music — she even penned full song lyrics from the perspectives of both main characters, Daisy Jones and Billy Dunne for her novel. The book follows these two characters — Daisy, an independent artist, and Billy, frontman of the major rock band, The Six. Of course, wild partying, intense love, and crushing heartbreak ensues.
If readers thought the love and loss between Daisy and Billy sounded similar to the tumultuous story of Fleetwood Mac's singer, Stevie Nicks, and guitarist, Lindsey Buckingham, they weren't wrong. In a blog post for Hello Sunshine, Reid wrote, "when I decided I wanted to write a book about rock 'n' roll, I kept coming back to that moment when Lindsey watched Stevie sing 'Landslide.' How it looked so much like two people in love."
Bringing the essence of Daisy and Billy's love to life with such iconic real-life and fictional inspiration is no small feat, and now it's almost time to see it go from page to screen.
Daisy Jones & the Six Cast
For Daisy, casting directors turned to an actor with rock in her veins. Riley Keough, who plays the mysterious, talented singer, is the real-life granddaughter of Elvis Presley and stepdaughter of Michael Jackson. She's also already played a '70s rocker before, alongside Kristen Stewart and Dakota Fanning in her first movie, The Runaways. You may also recognize her as "farm girl" Laurie Lake from Season 3 of Riverdale or as the shrill, manipulative Stefani in A24's Zola.
Opposite Daisy is Billy, played by Sam Clalfin, best known for *that* sugar cube moment in The Hunger Games: Catching Fire and his swoon-worthy performance in Me Before You. The rest of the cast is filled out with young, promising talent, and some familiar faces too — Suki Waterhouse, an actual famous musician, plays keyboardist Karen Sirko; Sebastian Chacon of Pose fame plays the calm drummer, Warren Rhodes; and prolific actor Timothy Olyphant plays the band's manager, Rod. Tom Wright, Camilla Morrone, Will Harrison, Nabiyah Be, and Josh Whitehouse round out the cast as a producer, other band members, and additional love interests.
Daisy Jones & the Six Release Date
Like with many recent series, Hollywood shutdowns forced the cast and crew of Daisy Jones & the Six to postpone filming for over a year. In September 2021, though, Keough announced the series had finally started filming in Los Angeles, the perfect backdrop for this glamorous and gritty story. In December, the cast took to social media to confirm the first block of filming had finished. Per Chacon's fun Instagram post of the cast partying in the French Quarter, they were likely shooting in New Orleans in March. In May 2022, Keough and Clafin both posted that filming was complete.
The official release date was finally announced in a Vanity Fair first look on Dec. 6, 2022. Get ready to rock out when Daisy Jones & the Six arrives on Prime Video on March 3.
Daisy Jones & the Six Music
Reid wrote original lyrics in the voice of the characters, and those lyrics will be set to music for the TV series. Blake Mills, a songwriter who's worked with Fiona Apple, Lana Del Rey, and The Chicks, is writing the music to bring the Daisy Jones & the Six songs to life.
Daisy Jones & the Six Trailers
Prime Video dropped a brief teaser on Dec. 6 to announce the series' release date.
The short clip shows Daisy and Billy sharing a knowing look while a packed stadium cheers at their concert. Chills ensue!
The full series trailer finally arrived on Jan. 25. The most exciting part of the trailer is that is provided a sneak peek at one of Daisy Jones & The Six's most iconic songs: "Regret Me."
The official full trailer dropped on Feb. 15, featuring one of the first major changes from the book. The drama-filled clip was scored by Billy and Daisy's first duet "Honeycomb," and focuses on the two singers' growing feelings for one another, which don't go unnoticed by Billy's wife Camila. In the book, Camila is a strong woman who isn't threatened by Daisy, and never actually hates her despite how close she gets to her husband. But it seems her role will be different in the series, as the show's version of Camila is frequently shown to be heartbroken and angry over the dissolution of her relationship in the trailer.
Get ready to rock out to even more jams when Daisy Jones & The Six stage-dives onto Prime Video on March 3.
This article was originally published on