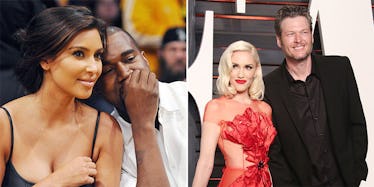 9 Couples Who Prove Being Friends First Leads To The Best Relationships
REX/Shutterstock
Maybe it's because "When Harry Met Sally" is my favorite romantic comedy of all time. Or, maybe it's because my own parents started off as best friends. (Yeah, guys, I would not exist if friendships could not turn into romance eventually.)
Or, maybe it's because Jim and Pam and Monica and Chandler are tied for my two favorite TV couples of all time. Or, maybe it's because I have a lot of guy friends I wouldn't touch with a 10-foot pole. Plus, the concept of not having that type of repulsion in a relationship is extremely foreign and fascinating to me.
Whatever the psychological reasoning may be, I have always been a sucker for a good love story about a couple who started off as friends, especially when it's a celebrity couple. Like, the concept of these two insanely good-looking people just being "friends" and then deciding they should date is just too much for me too handle. I go nuts over these stories.
So, in honor of National Best Friends Day, let's take a look at these nine celebrity couples whose relationships actually started off as good old-fashioned, platonic friendships.
Mila Kunis and Ashton Kutcher
The two became close friends on the set of their hit show, "That '70s Show" in 1998. They stayed friends for 14 (yes, that's right, 14) years until they started dating in 2012. They eventually married in July of 2015.
Kim Kardashian West and Kanye West
In 2012, Kanye released his track, "Theraflu,"featuring the lyrics, "And I'll admit I fell in love with Kim, 'round the same time she had fell in love wit' him." Kim responded in a Today Show interview, "Kanye and I have been friends for years, and you never know what the future holds or where my life will take me. I like the song." Shortly after, they were dating.
Blake Lively and Ryan Reynolds
The couple, now married with one child and one on the way, originally met on the set of the "The Green Lantern." where they quickly became close friends. In an interview with Entertainment Weekly's Sirius XM, Reynolds talked about the moment their friendship took a turn:
We were buddies then. I remember it was funny because for about a year after 'Green Lantern' had come and gone and all that stuff, we were both single.
This is right around when their lives turned into a scene from "When Harry Met Sally":
We went on a double date. She was on a date with another guy, and I was on a date with another girl. That was the most awkward date probably because we were just like fireworks coming across.
And the rest is history.
Jessica Alba and Cash Warren
In an interview for the February 2013 issue of InStyle, Alba admitted that before they dated and eventually wed, she and Warren spent a "very, very, very short" time as friends.
Beyoncé and Jay Z
The power couple might be in some hot water right now, but long before there were any lemons to be made into lemonade, Bey and Jay were just friends. In a 2008 interview with Seventeen, she explained, "I was 18 when we first met, 19 when we first started dating." That's a whole year of friendship for these two complicated love birds.
Gwen Stefani and Blake Shelton
Long before these two embarked upon the most high-profile, mutual rebound relationship of all time, they were just friends, palling around on the set of "The Voice."
Bella Thorne and Gregg Sulkin
These two were friends for six years before getting hot and heavy last summer.
Jada Pinkett Smith and Will Smith
Well before their 1997 wedding, Will and Jada were just friends. The two met on the set of "The Fresh Prince of Bel Air," where Jada auditioned for the role of Will's girlfriend. Although she didn't get the part, the two remained friends. She explained how things took a turn:
After we had known each other for many years, we went out for dinner one night [with mutual friends], and I saw that he had grown from this lanky kid to this really responsible man. We started courting each other and our friendship turned into romance.
Kate Middleton and Prince William
Long before their royal romance, the two met through mutual friends before both enrolling at St. Andrews in Scotland, where their friendship — and eventual relationship — blossomed.