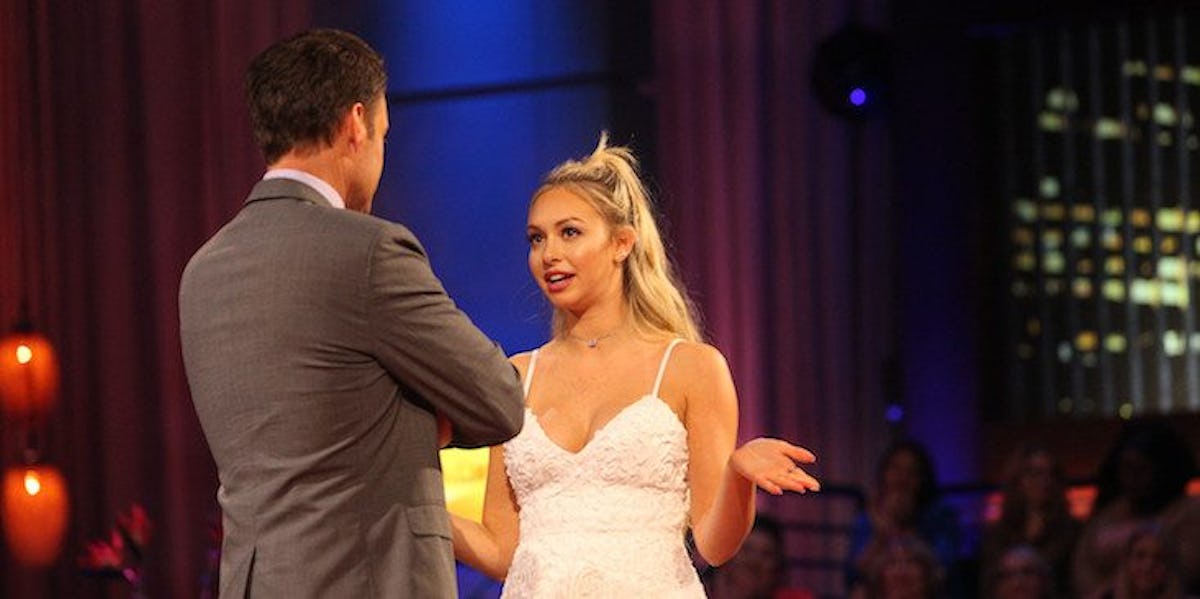 Corinne Olympios Is Making a TV Show About Dating, So There's That
ABC/Paul Hebert
Corinne Olympios is staying busy following the Bachelor in Paradise scandal that rocked production and ultimately led to her departure from the show. But, don't expect her to fade into the background -- the outgoing blonde from Nick's season of The Bachelor isn't slowing down at all when it comes to the entertainment world. In fact, she's just getting started. Corinne is creating a dating show, but it's probably not what you think. She recently revealed that she'll be working behind-the-scenes and on-camera for a non-reality series that will "be about dating in the millennial world that we're in." You know what they say… when one door to reality TV closes, a window to a scripted project opens. Oh, that's not it, exactly? Well, you get it.
Corinne has been doing her thing and making the press rounds over the past few weeks -- she had an in-studio interview with Chris Harrison for Bachelor In Paradise that allowed her to tell her side of the story of the whole DeMario debacle last week. DeMario had his hot seat moment a week prior, tearfully describing the pain he went through following the public scrutiny. Even though Olympios experienced some dark days after everything that went on, it appears she's making the most of life in a post-Paradise world.
Corinne has two TV projects in the works -- reality and scripted -- and filled The Daily Beast in on the latter. She'll be teaming up with producer Christine Peters, who worked on rom-com How to Lose a Guy in 10 Days, for a show that focuses on millennial dating. Hey, she does know a thing or two about that.
I think people just get so worked up about creating, like, dating pages, or… I feel like it just becomes such a topic of conversation, like, 'Oh my God, who are you dating? What kind of guy are you going to date? Does this person even look like their picture?' I just feel like there are so many questions and new ways of dating, so it's comical in itself.
They say "write what you know," so we can't blame a girl for trying. You do you, Corinne. Maybe you've got the next Friends on your hands.
But that's not the only thing she has in the pipeline. She's also writing a book that will be an honest account of her feelings and her real life. "I really am excited for my fans to read it, because a lot of fans are like, 'How are you just OK all the time? How are you so you?' and it's like no, this is me letting you in," she explained.
Corinne is certainly occupying her time with work, so who knows what will be next? A cookbook with her nanny Raquel with recipes for cheese pasta? Hmm, that's actually not a terrible idea…
Hey, the world is Corinne's oyster. Or -- in her case --  jar of pickles. We wish her the best of luck in her future endeavors and hope she has time for extracurricular activities she loves so dearly, like napping.