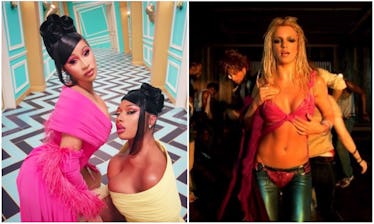 11 Music Videos That Were So Controversial, They're Unforgettable
These videos had everyone talking.
YouTube
A music video can say a lot about a musician's artistic vision. Most artists take recording a song very seriously, but they also take filming a corresponding music video equally seriously. A music video can further convey what an artist was trying to say in their lyrics, and there have been so many music videos through the years that have practically outshined the song they were filmed for. Some artists prefer to take a theatrical approach to music videos, while others keep it classic and incorporate some good ol' choreography into the mix. And while visuals are generally meant to be fun, some artists make a point to incorporate more provoking topics like religion, sex, or politics. These controversial music videos had fans talking when they were initially released, and years later.
There's a number of reasons an artist might want to stir the pot with their art. For one, videos with shock-factor undoubtedly grab more attention. Other artists, such as Lady Gaga, pride themselves on making music with meaning. The pop star is known for incorporating religious imagery into her visuals (which hasn't always sat well with critics). A few videos on this list are here simply because they will make you blush. Regardless of why they made this list, these 11 videos are truly unforgettable.