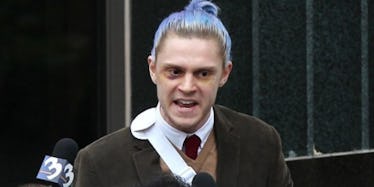 This Is Everyone Confirmed To Appear In 'AHS: Cult,' And There Are Some Surprises
FX/YouTube
Gear up, monsters, freaks, and witches, American Horror Story is on its way back and we've been getting tons of info about the upcoming season to hype us up for the first episode in September. So far, we know it will be called American Horror Story: Cult, and will begin on the night of the 2016 presidential election. Based on the trailers and press photos we've seen, we know clowns and bees will be prominent tropes throughout Cult, and we also know Freakshow's Twisty will make a reappearance of some sort. While all of that is juicy information, perhaps nothing is as exciting as the American Horror Story: Cult cast.
That's right, the plot and connections we love AHS for are nothing without the actors who bring them to life, and, over the past several months, Ryan Murphy has been announcing new (and old) cast members who will turn up in the new chapter. Like in past seasons of Murphy's sinister brainchild, series regulars like Sarah Paulson and Evan Peters will play major roles, and they'll be joined by some newcomers like Colton Haynes and Lena Dunham, as Deadline reports. That's just the tip of the iceberg though. Let's take a peek at the cast of characters who will be terrifying us every Wednesday night for the next four months.
1. Sarah Paulson
Sarah Paulson has been a staple on American Horror Story since Season 1 and she's absolutely one of the reasons we keep coming back for more. If you ask me, the real American horror story would be if Paulson ever decides to leave the cast. She's played everything from conjoined twins to a ghost junkie, and has been nominated for four Primetime Emmys for her roles on the series. So far we know that in AHS: Cult her character's name will be Ally and she'll be in love with Evan Peters' character.
2. Evan Peters
Like Sarah Paulson, Evan Peters has been a part of AHS since its beginning. It would be hard to imagine a season without him at this point. So far, we know his character, Kai, will play a major role in the upcoming season, and will have a love affair with Ally — which marks the second time his and Sarah Paulson's characters are in love.
3. Cheyenne Jackson
Another returning player from past seasons, we don't know much about who or what Jackson will be playing in this new installment, but I, for one, ain't mad he's back.
4. Billie Lourd
Billie Lourd is no stranger to Ryan Murphy shows, having been on Scream Queens in the past, but this is her first time as a cast member on American Horror Story.
5. Colton Haynes
Like Lourd, this is Colton Haynes' first foray into the ooky, kooky, spooky world that Ryan Murphy has brought to life in American Horror Story.
6. Billy Eichner
It's hard to imagine Billy Eichner doing anything other than being hilarious, and, while AHS has definitely had its moments of dark humor in the past, it's still a bit different from the kind of comedy Eichner usually serves us. I'm interested in seeing what his character will do throughout Season 7, provided he doesn't, ya know, die in the first five minutes.
7. Lena Dunham
Perhaps the most controversial addition to this year's cast, Lena Dunham will be joining the AHS family with Cult. Again, not quite sure what Murphy has planned for Dunham, but, then again, there are always surprises up his sleeve, so who knows what role we'll see Dunham take on in September. Rumor has it right now that her character dies in the first episode.
8. Emma Roberts
YES. YES. YES. Emma Roberts is OFFICIALLY BACK, Variety reported on August 1. Like her friend Sarah Paulson, Emma Roberts is almost synonymous with AHS. Sadly, though, we've been missing her since Freakshow and I'm so freakin' excited she's coming back for Cult.
9. Alison Pill
The final major addition to the cast this year is Alison Pill. Though she's not new to acting, she's definitely new to the AHS universe.
What did I say? As if the pics for Season 7 aren't enough to hype us up, this cast will definitely do the job. With so many new, talented players and AHS veterans returning, I can't wait to see what Ryan Murphy has in store for Cult. One last thing, because I'd be remiss if I did not say it: Please, for the love of god, GET JESSICA LANGE BACK.
Thank you.