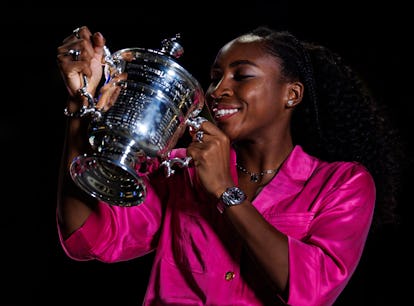 Coco Gauff Dedicated Her US Open Win To Serena & Venus Williams
She's the first American teenager to win this since Serena in 1999.
Coco Gauff is the tennis superstar of the moment, but she won't forget those that came before her. After becoming one of the only teenagers to ever win the U.S. Open on Sept. 9, Gauff took some time to reflect on how Serena and Venus Williams paved the way so that she could claim the prized trophy. And Gauff's dedication to the Williams sisters was incredibly heartfelt and meaningful.
Gauff pulled off a truly incredible victory against Aryna Sabalenka at the 2023 U.S. Open on Sept. 9, battling back after losing her first set to win it all. At 19 years old, Gauff is the first American teenager to win the illustrious tournament since Serena Williams in 1999, per Deadline. Notably, she also won in a similar fashion as Williams, who also fought back after initially losing the first set in the finals.
In her post-victory press conference, Gauff was asked what it feels like to see her name emblazoned on the trophy alongside the Williams sisters, and the superstar gave the phenoms their flowers.
"They're the reason why I have this trophy today, to be honest," Gauff said. "They've allowed me to believe in this dream. Growing up, there weren't too many Black tennis players dominating the sport. It was just them at the time that I can remember, and obviously more came because of their legacy. It made the dream more believable. All the things they had to go through, they made it easier for someone like me to do this. You look back at the history of Indian Wells with Serena, all she had to go through. Venus, fighting for equal pay. It's crazy and it's an honor to be in that same lineup as them."
Serena Williams was elated to celebrate Gauff's big win on Instagram, sharing a photo of Gauff holding the trophy and writing, "Ahhhhhhhhhhh!!!! Amazing!!!!!!!!"
And Williams wasn't the only big name singing Gauff's praises. Barack and Michelle Obama both shouted out the 19-year-old tennis champ on social media, and Gauff's Instagram post with her trophy amassed congratulatory comments from celebs like Zendaya, Ellen Pompeo, Madelyn Cline, Latto, and Maitreyi Ramakrishnan.