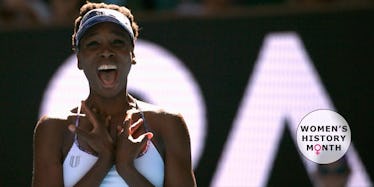 Venus Williams Reveals Adorable Reason She Owes Her Success To Sister Serena
REUTRS
Venus Williams doesn't know what she would tell her younger self.
"Oh my gosh," the tennis star sighs as she considers my question. First, she says with a loud laugh,
I would tell myself that Serena's going to be really, really good. Maybe that's what I would say.
But she's struggling to give a serious answer.
It's not because she hasn't gained any wisdom, and certainly not because she doesn't consider herself inspiring. It's just because she doesn't know what she could have done better.
Williams explains,
That's a good question because, honestly, I've really lived my life in a way that I wanted to. Not always perfect, but something I can be proud of. So that questions always grabs me because I really lived — and not just kind of watched on the sidelines.
It's the kind of answer only a Williams sister could give without sounding phony or obnoxious.
When your younger self was someone who proudly altered history with talent, strength and style on your path to becoming a great, what advice could you have?
Venus is lending her adult greatness to support #StrengthHasNoGender, a campaign from Brawny celebrating Women's History Month, which is how I met her in New York City.
The campaign features women in place of men on Brawny products. Brawny also partnered with Girls Inc. to support girls in STEM fields.
#StrengthHasNoGender, Williams says, "is definitely about empowerment and about the strength and resilience and celebrating women and celebrating Women's History Month."
This is a concept she finds inspiring and believes she embodies. She says,
I've lived my life in a way that I think, hopefully, empowers other women, empowers myself, living my dreams with strength and resilience on a daily basis. Because it takes that, it takes work to live your dreams. It takes work to hopefully be a role model for other women.
Venus and Serena have put in the work to be recognized as great athletes, not great female athletes.
They have insisted on having that common ground, on being recognized as equals.
Aside from being women entering the typically male space of "great athletes," they are black women entering the typically white space of tennis.
For American women of my generation, the question isn't if we were inspired by the Williams sisters — of course we were. The question is how we were inspired.
As she tells it,
Honestly, growing up, I wanted to win major tournaments, and when you're a child you don't think that could influence other people, and that how you behave and the decisions that you make will influence others. But I'm definitely firmly aware of [being an inspiration] now. It's something that I definitely embrace, because it goes way past my dreams that I had for myself and inspires dreams for others. I think that also embodies the 'Strength Has No Gender' campaign — that strength and resilience.
For Williams, a lot of her strength comes from that pure want to win.
She says she's not distracted by off-court commentary because "as soon as you lose a point that focus comes back. It's just that simple."
She laughs as she says it, but focusing on the game is part of her training.
Williams adds,
That focus and training starts in practice, being able to be focused and keep your mind on the task. You'll even find that if you stay off tour long enough, that's something you actually have to work on, too, right along with your game.
Similarly, her trueness to herself on the court comes out of the necessity of the game. Williams says,
On the court you have to be yourself. I think yourself comes out whether you mean it to or not [laughs]. So hopefully your best self comes out, and in turn, hopefully your best tennis comes out.
Along the path to greatness, Williams has encountered institutional sexism, including a difference in prize money for male and female tennis players.
Williams says,
Equal prize money does exist. That's something that we were very diligent about pursuing a number of years ago. That was very exciting.
But it's a topic that remains heavily debated, based on differences in popularity between men's and women's tennis.
One common counterargument is Venus and Serena bring in big crowds, so they should be paid equally.
But, to Williams, she and her sister specifically shouldn't matter in the discussion:
It's really about the side of right, and all of us being human.
When Williams broke barriers in showing who can be a great athlete, she didn't do it alone — and she doesn't intend to let other women do it alone.
She had Serena with her, of course, and she also had all of the women competing with her.
As for Serena, Venus says she "can't imagine having to play without her."
I was never alone. I think most professional athletes, you are alone. In tennis you're all alone on the court. But growing up, I grew up with a doubles partner, I grew up with someone working just as hard as me every single day on the court next to me.
In terms of relationships with competitors, Williams says,
You leave it all on the court. You just leave it on the court and do your best. If you don't win, the next time you hopefully have another opportunity to play that opponent and find that challenge within yourself to figure out why it didn't happen. That's the beauty of sports.
Although there's no end in sight for her career at the moment, she recognizes she's at a stage in her career where she can be a mentor, "helping some of the younger, American players to fill those shoes that they want to fill of being a champion — an American champion."
That's where I find myself in a unique position now of passing down knowledge and hopefully inspiration.
There's no doubt she's already passed down inspiration for generations to come.
Citations: Resurgent Venus Williams says no end in sight to playing career (Reuters)