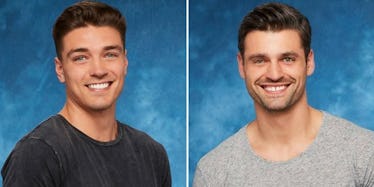 4 Clues That Suggest The New Bachelor Will Be Announced Sooner Than We Think
ABC
Rachel Lindsay will finally reveal the lucky guy she chose to be her fiancé from this season of The Bachelorette in less than a week, so of course the question everyone in Bachelor Nation is... when do we get a new season rolling? There are already some rumors buzzing about who the new Bachelor might be for Season 22 of the reality dating competition, and judging from a confluence of events occurring in Bachelor Nation right now, it looks like we won't have to wait long until the new Bachelor is announced.
Yep — we're so close to finding out who the new The Bachelor star is going to be, I can almost hear the limos pulling up to the mansion now. Last week, Chris Harrison tried to throw us off the scent by telling AOL the new Bachelor has yet to be selected. While that may have been true last week, I'm willing to bet ABC has their new guy all lined up by now and is ready to reveal. How do I know this? Well, it just seems very likely the announcement is coming any day now if you look at the timing and all the clues.
1. Nick Viall was announced as last season's Bachelor this time last year.
Last season's Bachelor announcement happened on August 30, when ABC announced Nick Viall as the star of Season 21 of The Bachelor during the After Paradise after show for his season of Bachelor in Paradise. In just a couple of weeks, it'll be that exact same date again: time to announce!
2. Bachelor in Paradise is about to start.
Last year, the new Bachelor came from the season of Bachelor in Paradise that had just begun airing at the time. Season 3 of BIP was only four episodes deep when Nick was announced. This season of Bachelor in Paradise will premiere in a couple weeks on August 14. Giving it a couple episodes to air would time this year's reveal at the end of August, exactly like last year.
3. The Bachelorette is about to end.
Rachel's season of The Bachelorette will conclude next Monday on August 7. Last year, Nick was announced four weeks after JoJo Fletcher's season of The Bachelorette wrapped up on August 1. If it follows the same pattern, the new announcement would occur at the very beginning of September.
4. There's already a clear frontrunner.
Since the choice is pretty clear, there's no reason for ABC to wait much longer to confirm the next Bachelor. Sources are already coming forward claiming Bachelorette finalist Peter Kraus is a lock for the new season (even though he's technically still in the running to win Rachel's heart right now). Then again, fans are also rallying for other fan-favorite Dean Unglert to be the new Bachelor. With the selection narrowing down, it's only a matter of time until it's finally announced.